Sharing the Blame
Welcome to 2017!
As you may recall, 2016 ended with me sharing an email from a builder who is constructing a new Hansen Pole Building and may possibly be a legend in his own mind.
Our company policy, when a challenge arrives, has always been to begin by looking to see what, if anything did we do wrong. In this particular case, we (and yours truly) share in some of the blame.
For you, gentle reader, I will paint a picture of the building in question, so you may get a better feel for the entire process.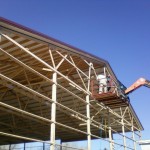 The building is a 40 foot clearspan in width, 100 feet long with an eave height of 16 feet and five inches. It is designed under the 8th edition of the Massachusetts State Building Code, with a 90 mph (mile per hour) design wind speed and a 50 psf (pounds per square foot) design flat roof snow load.
It features 12 inch enclosed overhangs on all four sides, as well as three 14 foot wide by 14 foot tall overhead doors on one sidewall.
The most practical design solution actually (which is a rare case) turned out to be based upon the traditional "East coast" style of post frame construction, with a single truss spaced every four feet on top of "truss carriers" (beams) spanning sidewall columns generally every eight feet (other than at the overhead door locations).
This building happens to be narrow in width in relationship to length (1 to 2.5 ratio) and is fairly tall. As such, the wind load was great enough to exceed the shear resisting capacity of the steel roofing in the eight feet closest to each endwall.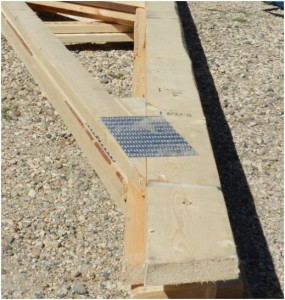 In order to carry the load, the building was designed so the trusses in the affected areas would have a traditional ¼ inch butt cut (educate yourself on what a butt cut is here: https://www.hansenpolebuildings.com/2015/05/truss-butt-cuts/), while the balance of the trusses would have 11/16 inch butt cuts. This would allow for the top of all truss carriers to be placed at the same height, and 7/16" OSB (Oriented Strand Board – https://www.hansenpolebuildings.com/2013/10/osb-versus-plywood/) to be installed on top of the lower heel height trusses.
Pretty darn skippy sounding ……. Until we get to tomorrow!!
Yep – yet another cliff hanger!!