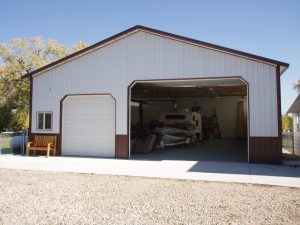 Maybe you have a hobby that's outgrown its current space. Or your family has been telling you they're tired of hearing power tools running in the garage. Maybe you just need a place to work that's free of distractions. Whatever the case, it's time to build a custom workshop.
You can create a backyard workshop for any number of activities. You might use a hobby workshop for:
Woodworking: If the sounds of sawing and hammering in the garage is driving your family up the wall, a custom workshop can give you a place to work without disrupting the rest of the household.
Welding: A cramped garage may not be the best place to use a blow torch, but a detached workshop is ideal for a welding hobbyist.
Car Repair: You can easily customize a workshop to be large enough for several vehicles, a car lift, a work bench, and your tools.
Home Brewing: If you're tired of keeping your home brewing supplies in the bathroom or a guest bedroom, a workshop can provide much-needed additional storage space.
A Writer's Retreat: With the right insulation, you can create a comfortable, quiet sanctuary to work on your novel or freelance writing projects.
An Art Studio: No matter what medium you prefer, a detached workshop provides enough space to work on your art.
A Man Cave: Maybe you just want a space where you can relax and hang out with friends. A detached workshop is great for that too!
Building a Workshop Doesn't Have to Break the Bank
Two major hang-ups that some people have when they consider building a workshop are cost and labor. After all, isn't any major construction project going to require a considerable investment of time and money?
Fortunately, that doesn't have to be the case with custom built workshops. By choosing a prefabricated steel workshop, you can considerably reduce material costs without sacrificing quality. Prefab workshops are also relatively fast and easy to install, so you can turn your workshop construction into a DIY project and cut down on labor costs.
When you work with Hansen Pole Buildings, you can submit a design for your dream pole barn workshop, and we'll create a pole building kit with detailed instructions for installation. That way, you'll be able to get a detached workshop that meets all your needs without getting wrapped up in an overly expensive home construction project.
If you're ready to have your own custom-built workshop, call us at 1-866-200-9657 or click here for a quote.