My early days of post frame (pole) buildings came in the Pacific Northwest. In the early years, rarely did buildings have any overhangs…at least not beyond a few inches of roof steel extending past the siding.
When building did have overhangs, they were always "open". Open, in this sense, did not mean birds and other critters could fly into the building through them, but rather they had no soffits.
With an open overhang, when one stands beneath and looks up at the underside of the overhang, the supporting substructure framing is visible, as is the underside of the roof steel, or roof sheathing.
A decade later and a transition from a provider of post frame building kit packages, to being a pole builder and clients began requesting their buildings to have enclosed overhangs. With a minimal investment over open overhangs, plus the advantages of being very attractive and limiting locations for nests of both barn swallows and wasps – it was (in my mind) a no brainer.
In researching how others were installing soffits, I found the majority use a piece of trim called an F and J up against the building sidewall.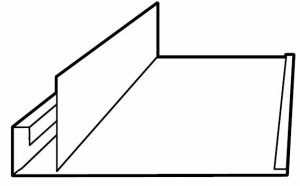 Picture an F channel with the downward leg being attached to a horizontal piece of wall framing, usually by nails. The horizontal "legs" of the F receive the soffit material – usually vinyl, steel or aluminum. From the end of the short (and lower) horizontal leg of the F channel, is another downward leg (envision an inverted J). The sidewall steel then slides up into the J from below.
All of this appears to be a quick and easy install. Nail a single 2×4 against the outside of the columns, attach the F and J to it and slide the soffit panels into the F channel.
Now the problem with this (as happens with quick and easy) – the soffit panels are not attached to the F. When the breeze begins to blow, the soffit panels vibrate in the F channel, making noise. As wind speeds increase, the soffit panels can actually be blown out of the F – creating all sorts of challenges.
So how did we solve the challenge?
Instead of a single 2×4 nailed to the face of the columns, we took two 2x4s and nailed them together to form an inverted L. The short leg of the L now gives something solid to attach the soffit panels to. Below the soffit panels an inverted piece of J channel trim is installed, easily attached to the vertical leg of the 2×4 L.
I've now experienced several thousand soffit installations using this procedure and have yet to have a report of a single soffit panel being blown out!
Success.