If you missed the start of this blog on hiring a contractor please read this four part series on finding a contractor and following my own advice starting with Part I below:
https://www.hansenpolebuildings.com/2016/02/when-i-dont-follow-my-own-advice-part-i/
Friday January 15
Bryan 6:31 AM Major white out.. the cars in thr ditches. Love you two. See yah Mon. Morn
Bryan 6:57 AM Move
Me 7:50 AM ???
Bryan 7:54 AM Write it in your phone mike! Im home cleanin house!! Bills etc…
(at this point between his poor workmanship and erratic behavior, I've decided to be done with him, before bad goes to worse)
Me 9:06 AM Please call me now
Bryan did call me. I let him know I had stopped payment on the check I wrote to him the previous day and notified him we were done with him. We expected him to pickup his things and to pay back the extra two days he had been paid for.
Bryan 10:16 AM In the mean time leans will be produced
Bryan 10:33 AM Law suit for telling me to use your ladder. The bruises i have.
Sidebar – Bryan brought his own ladder and opted to use our ladder without the knowledge of either Judy or myself.
Me 10:35 AM Are you threatening me?
Bryan 10:39 AM I don't threatened people. My bible is still by the bed. I trusted you. If its money, man up. I gave my love to you. I trusted you Mike.
Bryan 10:40 AM My attorney advised me to go public
Saturday January 16
Me 11:37 AM Please let me know which evening next week you can come pickup your stuff. We want it out of here.
Bryan 11:44 AM Speaking with sheriff, Dr. Office, etc.. will get back to you….
Monday January 18
Bryan 10:41 AM Let me know how we can communicate as civil adults. Or must I go through the system?
I left to come back with a trailer full of materials with you stating that I have done great work. Then to have your attitude flip. I have mentioned to my legal advisor about your misfortune of Judy's accident. How I witnessed her up and down attitude. You can say what you will. Any court will find that a go getter woman like herself, that has been through her misfortune, can and will go through spells. That being said, I have pictures upclose and detailed. You had yourself Mike mentioned I take them.
You people are my worst pain. I gave my whole person to give more because of Judy's misfortune..
You could have had me bring materials down Monday, had me work. And on this coming Friday, politely say; Bryan issues arose and we can no longer use your help. Bryan you have made materials possible and delivered. You could have at least used me for that.. I than would have been there with a trailer and could bring my tools back.
You are rude. Can not even give a REAL tactic to a story. Manning upo and just explaining that you need to tighten up on finances. Thus, need some one lower in wages to do the work!
I will contact you or my attorney will. Please lets move forward.
I can and will go to the highest groudns of the law to get payment for my injury and my tools back. I am not a doper so please request a drug test. I will get that payment also.. Thank you Bryan
Tuesday January 19
Me 11:55 AM Please provide the name and number of your attorney
Bryan 11:57 AM They will call you. DO not contact me again.
Monday January 25
Bryan 7:34 AM Now I am sueing you for theft of tools 4,000 plus the 900.00
Me 7:48 AM Please provide the name and number of your attorney
Bryan 7:49 AM They will be calling you. And since you have your 1500 back I better be able to get my tools back
Bryan 5:02 PM I want to get my stuff Wed. And you owe me $900.00. Lets donthis with no issues. And I will move on. $900.00 cash, cashier's check or (2) two money orders. (1)one for max amount of $500.00 & (1)one for the amount of $400.00. No personal or business checks.
Me 5:04 PM Please provide the name and number of your attorney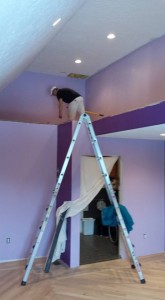 Bryan 5:48 PM I was told not to. They asked if I play with facebook because they don't want me to advertise our issue. I don't play with that gossip site. They said if I give you any info it could damage the case.
Bryan 7:01 PM I can get ALL my stuff Wed. and payment for 3 days 900.00 in money orders, cash and sign a lien waiver. And we go separate ways. I need my stuff for work Thursday.
Me 7:03 PM Please provide the name and number of your attorney
Bryan 7:11 PM I cant. I spoke with paralegal. The firm took information and attorney's all had court. I don't know who I have. IF I  because I have to lose this job because of childs play I will go aggressive. Im trying to work with you so we can just move on. If I get ALL my things and money order or cash, I can sign an agreement that stated we settled this issue as honest men and we move on with our lives. –(in no form am I trying to threatened)
Tuesday January 26
Me 7:28 AM On the 19th you told me your attorney will call me and to not contact you again. The stress of you threatening, bullying, harassing and attempting to blackmail us has put my wife in ER 4 times in the past week and she is now hospitalized. If you contact us again, other than with the name and number of your attorney only, we will have no option but to have a restraining order placed against you, and every legal remedy available will be taken. You are treading upon some very thin ice right now and you may want to be considering carefully the consequences of your actions. An offer was madefor you to pickup your things last week, which you refused. I will gladly negotiate with your attorney only to have the tools you abandoned delivered to his or her office. As you have requested previously I will not be in contact with you again.
Bryan 5:24 PM The office of TURBAK LAW in watertown finally got back to me and said are unable to take the case because they don't practice in the case I need. SO, I ask you politely Mike, what time after 11:00am may I pickup my things and get payment for the three days. I done want any trouble. I just want to pick up the tools and payment and be on my way with no talking about your projects. I will not start any trouble. Please work with me Mike, I need my things for Thursday morning. Bryan
Me 7:51 PM I will offer you this one opportunity which is to be answered with either YES or NO.
You have been paid $1500 in advance for a week's work (5 days) and only worked 3 days. We owe you no money. If you want to pickup the things you abandoned I can be there at 6 p.m. tomorrow – Wednesday. You can stage all of your things, however you will need to sign a release confirming you have received all before they are loaded.
If NO, I need the name of your attorney and their phone number and I will make arrangements to deliver your things to him or her.
Bryan did agree to pick up his things the following evening.  Here is the statement he signed at time of pickup:
"January 5, 2016 Bryan S. contracted with Michael Momb to perform construction services at a residence owned by Judy A. Hansen in Roberts County, South Dakota.
Under the terms of the contract Bryan S. would provide onsite services for $1500 per five day week, and payment of $1500 was received and cashed as advance payment for the initial five days.
The contract was terminated by Michael Momb after three days of services, leaving an overpayment of $600 to Bryan S.
On January 16, 2016 a request was made of Bryan S. via text to remove their possessions from the premises the following week, which was refused, leaving the equipment and belongings abandoned.
On this date, January 27, 2016, Bryan S. have picked up above said equipment and belongings in their entirety. Bryan S. hereby releases any and all claims in perpetuity against Michael Momb, Judy A. Hansen, their heirs and assigns."
This was signed by Bryan S.
During the process of all of this, I did some checking. The proposal I signed from Bryan S. has language on the back which the front side does not reference and I was not aware of. Included in this language is "LICENSING: Contractor informs owner that the company is licensed under the laws and statutes of this state or local agency". After making a few calls to the state of South Dakota, it turns out Bryan S. does not have authority to do business in the state and a suggestion was made to refer this to the Attorney General's office.
My mistake was in hiring someone I did not thoroughly vet. My bad and I own this error. I will do everything I can to keep others from making my mistake, at least in the case of Bryan S.
Please, I implore you, do not make similar mistakes yourself!