Hansen Pole Buildings' Designer Rick has been working with a client who has a nose for knowledge – and I thank both of them for sharing information with me, so I can pay it forward. This particular client is weighing the use of Perma Columns against the more traditional design solution for post frame (pole building) foundations – where a pressure preservative treated wood column is embedded into the ground.
As the good folks at Perma Column state on their website:
"Perma-Columns are five foot precast concrete columns that keep wood out of the ground, ensuring your building's foundation will never rot. They are the first product to combine the economy of post frame construction with the durability of a concrete foundation. Simple installation. No waiting on concrete trucks. No treated wood in the ground."
Our good client has done his research and found the following article, "Long-Term Durability of Pressure-Treated Wood in a Severe Test Site", which was published in Advances in Civil Engineering Materials in 2013.
For those who are interested in numerous pages of reading, the article can be found here: https://www.fpl.fs.fed.us/documnts/pdf2013/fpl_2013_lebow001.pdf
Rather like a so-so book I have read a portion of it and then skipped to the ending, the authors of the article conclude: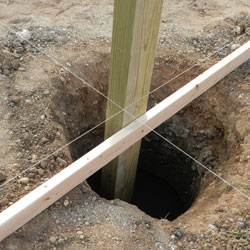 "Long-term post and lumber durability tests provide insight into the expected durability of wood products that have been treated to AWPA standards and properly handled during construction. This review of the durability data from a test site in southern Mississippi indicates that the expected durability of creosote-treated wood is in excess of 50 years, and that of wood treated with pentachlorophenol, ACZA, or CCA exceeds 60 years. No failures have occurred in lumber specimens treated to intermediate or high retentions of pentachlorophenol, ACZA, or CCA formulations. The expected durability of specimens treated with copper naphthenate was more difficult to interpret because of conflicting results between tests with lumber and post specimens. However, the post specimens indicated durability in excess of 60 years, even at retentions substantially below those currently used commercially. Some caution is needed in extrapolating the durability observed in these test specimens to in-service structures, as the specimens are not subjected to the same mechanical loads or potential damage during construction. Conversely, comparison of the results from this site to reports from other locations suggests that these results might underestimate potential durability in more northern climates."
In lay terms – the probability of any of us who are living adults today seeing a non-abused, properly pressure preservative treated wood column ever rot off, is not impossible, but highly unlikely.