Every Hansen Pole Building Kit Package comes with building plans which are drafted by a real live human being! They are then reviewed not once, but twice, by upper level team members – who catch just about every errant line.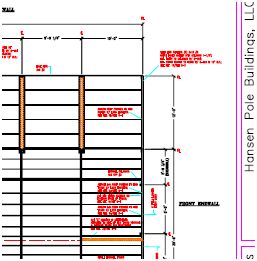 To insure the final building plans are correct (usually it is an issue of "no, the other left") before printing and sending the plans, we do ask our clients to view and approve (or request edits). All of this is done via login on our website.
Here is an example of a response from one of our clients, who actually did have a very sharp eye!
"I have a few questions regarding these building plans and would prefer asking first rather than declining, but you can advise which path to take.
 On Sheet S-Oa and S-Ob under Basic Wind Speed it is listed as 123 mph.. In my original request and all subsequent communications I needed to make sure that the wind load was listed the plan for Building Permit purposes that it was designed for "at least" 115 mph with a 3 second gust. This was listed on the quote sheets as "Wind Speed (3 sec gust): 123 mph", but here on the plans it only says "Wind Speed: 123 mph". It is very important to my Building Department that this be stated correctly on the plan themselves. So, I request this information be added in that manner. As for the 123mph versus 115mph, if we are overbuilding and using larger materials than required for 115mph 3-second gust, that was not at my request or approval, so please advise on this.
 Under #10 on General Notes on S-Oa and S-Ob, and on Sheet S-3, Building A Section and Building B Section, AA / S-3, the steel roofing and siding is listed as .0157 plus/minus, which isn't consistent with 26 gauge steel. The initial drawings were for 29 gauge steel, however prior to final quotes we changed to 26 gauge steel for both roof and siding. This may be listed in other places as well, but this one caught my eye. Please make the necessary changes to ensure the correct product is shipped.
 Throughout the plans the Poles/Columns are listed as 6″x8" measurement where in all prior quotes I was shown that the columns were going to be 6"x6". I know the price was quoted at 6×8 because the designer mentioned this dimension in our last conversations, but I wanted to ensure that this size post was required as it seems excessive based upon what I have seen in the area. Again, if we are using larger materials than required to withstand the 115mph 3-second gust required in my area, I'm sure we are also spending more than necessary and I would like to use only what is demanded (other than my request for 26 gauge steel)."
 And my response:
 Wind Speed:
Actually your initial request for a quote had 110 mph on it. Our data base shows your area to be in a 123 mph 3 second gust area, and every quote we provided for you AND the invoices you approved show 123 mph. Under the 2006 IBC the basic wind speed and 3 second gust are the same (https://publicecodes.cyberregs.com/icod/ibc/2006f2/icod_ibc_2006f2_16_sec009.htm). Our Drafting Department will happily add the term "3 second gust" on Page S-0 and S-0b of your building plans. Your price is the same for either wind speed.
Steel thickness on plans will be corrected.
Basic pole location diagrams provided by use do not specify a column size and are "placeholders" – used merely for discussion purposes. Our design program does a complete Code Conforming analysis of every component and connection for any given building. Just because you have seen something smaller in your area, does not mean those buildings actually would meet Code.
We do guarantee, however, your building (and every building Hansen Buildings designs) does meet your local code. We never under-design a building, and believe me, there are plenty of companies out there who do.
 As always – crisis averted!