New Guides to Wood Construction in High Wind Areas
My long time readers will probably recognize the name Dr. Frank Woeste, as he has appeared in a plethora of my articles. When it comes to wood design, and especially post frame buildings, Frank is at the top of the game. For the curious, here is his background: https://cmec.wsu.edu/facultypages/WoesteResume.pdf
When I first met Frank in 1985, he made me a deal – come to Virginia Tech in Blacksburg, speak to his AgEngineering class and he would share his post frame design programs with me. One of his students was a young John "Buddy" Showalter. As much as I would like to take credit for Buddy's engineering career successes (he is now a vice president at the American Wood Council https://www.awc.org), I'm thinking Buddy is far more self-made than influenced by me.
Buddy recently authored an article, "New Guides to Wood Construction in High Wind Areas", from which I have excerpted the following:
"According to the Insurance Institute for Business and Home Safety, high winds cause millions of dollars in property damage each year. The good news is that much of this damage can be avoided through quality design and new construction methods that are available to strengthen wood structures.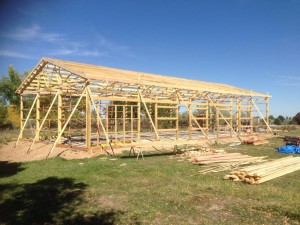 To help address the design challenges associated with high wind, this week the American Wood Council (AWC) published a series of updated Guides to Wood Construction in High Wind Areas. The guides are based on provisions contained in AWC's 2012 Wood Frame Construction Manual (WFCM), and establish a specific set of prescriptive, wind-resistive structural requirements for wood-frame buildings in compliance with the 2012 International Building Code (IBC) and International Residential Code (IRC).
Design wind loads are provided in a national standard, Minimum Design Loads for Buildings and Other Structures, ASCE 7, and may vary between jurisdictions located in different wind zones. Accordingly, architects and engineers are encouraged to work with their local code officials to ensure an understanding of what is required for designs in their jurisdiction.
AWC is also a resource for designers, translating what are often complex building code requirements for wood buildings into an easily understandable format. Wood buildings can meet the challenges of providing robust wind-resistive designs due to redundant load paths and multiple fasteners creating very ductile (flexible) assemblies. This makes wood a logical choice for design in high wind areas."
Previous articles speak to the ability of post frame (pole) building design: https://www.hansenpolebuildings.com/blog/2011/06/tornado-proof-pole-buildings-can-limit-damage/
Not only is wood a logical choice – but utilizing it in post frame affords even more advantages, when it comes to resisting high winds!