Eight Nifty Tricks to Save Money When Building a Pole Barn (reprised)
This is Part II of a two part series on pole barn savings through material and feature choices. Bret Buelo of Wick Buildings® wrote an article by this title last year, some of the items I agree with, some not so much. This is my "take" on his points. If you missed the first part – back up one day and read the first 4 points. To continue…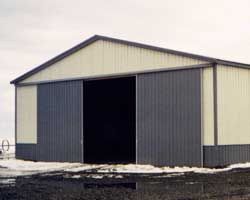 "5. Install a sliding door. They're less costly than overhead garage doors or hydraulic doors for equipment access doors that you don't use frequently.
And today's slide doors, even large ones, are much easier to open and close than your Dad's old slide door due to improvements in tracks, trolleys, materials and construction techniques."
While sliding door systems have improved immensely, for most people the lack of convenience and security does not outweigh the savings. For horse barns or purely agricultural structures, they might very well be the best solution. As for cost, relatively small sized overhead doors can actually be less expensive than sliding doors. Overhead doors can also be provided as insulated and electric operators are reasonably added. For those in snow country, having to shovel the snow away for those frozen door tracks on a sliding door is still an obstacle, while an overhead door rolls right up the tracks.
"6. Use DripStop for condensation control. To prevent condensation from forming or dripping on high-end equipment, purchase DripStop.
It's not an insulation, yet it effectively controls condensation in non-insulated buildings. It works well for mini warehouses, animal confinement or any cold-storage building in which you wish to deter moisture from dripping on your stuff.
DripStop can potentially save you thousands of dollars in comparison to using ceiling insulation."
Steel roofing is prone to issues involving condensation. DripStop is not going to be as cost effective (from a material only standpoint) as reflective insulation: (https://www.hansenpolebuildings.com/blog/2011/11/reflective-insulation/).
Where the savings is going to come from is in labor, read more about this here: https://www.hansenpolebuildings.com/blog/2014/07/condenstop/
"7. Choose an interior liner system over a drywall finish. A good tip for many buildings; adding a steel flushwall liner system interior to your building can be much less expensive than finishing your building with drywall.
You'll get a durable interior without all the hassle of hanging and finishing drywall."
I am going to disagree with this design solution entirely. Ever try to hang a cabinet or a shelf on walls with a steel liner? And steel liner ceilings have some of their own issues: https://www.hansenpolebuildings.com/blog/2013/08/steel-liner-panels/
As to costs, I checked today's prices at The Home Depot® where ½" USG Sheetrock® is 27 cents per square foot. Steel liner panels 95 cents per square foot. I'd really like to see where the savings is in his argument.
"8. Weigh your options on soundproofing materials. Some people will install a sound-absorbing ceiling material, but that isn't always the most cost-effective option to reduce noise.
A perforated steel liner with insulation behind it can be a better way to reduce noise, especially in commercial and shop environments."
From over 16,000 buildings of experience, sound-absorption is way down the list of priorities. In only a single case have I been involved in a project with perforated steel liner panels. It happened to have been specified by an architect who didn't know better (most possibly it was a result of being influenced by a particular builder who pushed the product). It was to be installed over 7/16" OSB, in a situation which would often result in the liner panels being hosed down with water…..which would go through the perforations…..getting the OSB wet. Anyone other than me seeing potential problems with this as a design solution?
In a future article – I'll highlight some of my own pole barn savings "tricks" and advice for a new post frame building. Stay tuned!