Treated Wood Industry Looks to Toughen Standards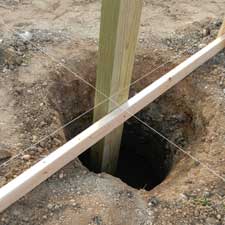 Prior to the EPA (Environmental Protection Agency) dipping its nose into the pressure preservative treating chemical industry in 2002, buying treated wood was pretty darn easy. Chromated Copper Arsenate (CCA) was the treatment of choice for most everything.
CCA was so much cleaner to work with than its most common predecessor, penta (pentachlorophenol), was cost competitive and enjoyed a lengthy lifespan.
For more reading on penta treated lumber see: https://www.hansenpolebuildings.com/blog/2012/11/pcp/
I've been ranking on the post frame building industry to put the pressure (pun intended) on lumberyards, wholesalers and pressure preservative treatment companies for some time, so it is nice to see another industry (the deck builders) jumping on the wagon for improvements as well.
My most popular rant on pressure treating can be reviewed at: https://www.hansenpolebuildings.com/blog/2012/10/pressure-treated-posts-2/
This recent article by Ted Cushman in the Journal of Light Construction (https://www.jlconline.com/wood/treated-wood-industry-looks-to-toughen-standards_o.aspx?dfpzone=home) lays out the challenges posed by the deck construction industry with pressure preservative treated wood.
Ted also wrote a great article in Professional Deck Builder (https://www.deckmagazine.com/lumber/treated-wood-update_o.aspx) which gives an interesting recent history on the "players" in the pressure preservative chemical industry. This article also has some great explanations as to how different chemicals work to preserve wood.
My hope – the post frame (pole building) industry will organize to put suppliers on notice – we (and our consumers) both want and need products which will withstand the test of time.
Investing in a new pole barn? Then know what it is you're a buying when it comes to the treatment levels of the columns for your new building. Don't be satisfied if the vendor says their columns "are treated for in-ground use". Ask them to specify the treatment level! All treated posts are not the same! Whether building yourself, or buying a "turnkey" building – your hard earned dollars should be spent on something which will indeed last for as long as the rest of the building!