Preserving Wood Columns Beyond Code Requirements
The Building Codes (IBC – International Building Code and IRC – International Residential Code) specify minimum requirements for pressure treated lumber used to structurally support buildings.
My previous dissertations on pressure treating are available for your reading pleasure here: https://www.hansenpolebuildings.com/blog/2012/10/pressure-treated-posts-2/ and https://www.hansenpolebuildings.com/blog/2014/05/building-code-3/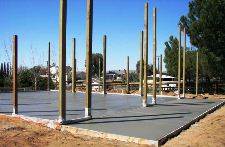 Hansen Pole Buildings Designer Kelly brought to me the question (posed by one of his clients) about the available (and feasibility) of the utilization of greater levels of preservative treatment chemicals for wooden columns embedded in the ground.
Higher levels of pressure preservative treating are available for pressure treated lumber. However they are going to be done by special order at the pressure treating plant. Special orders come with "special" (read – higher, sometimes MUCH higher) pricing, as well as extended periods for delivery of product.
The reality is, if the Code requirements will last the useable lifespan of the building or more, an increase in the treating levels is probably not the best investment of a building owner's hard earned funds.
If one is skeptical (or even unbelieving) about the ability of properly treated pressure preservative columns to last when embedded in the ground, there are some alternatives.
Plasti-sleeves® https://www.hansenpolebuildings.com/blog/2012/04/plasti-sleeves/ or Post Protectors™ can be placed over the in-ground portion of pressure preservative treated columns to isolate the wood from contact with the surrounding soils.
Carrying the argument even further, columns can be removed from ground contact completely! Engineered brackets are available which allow columns to be mounted to foundations, or even concrete piers which are poured into the ground: https://www.hansenpolebuildings.com/blog/2012/09/concrete-brackets-2/.
Also available, are patented pre-cast concrete short columns with brackets on top, which can be placed into previously augured holes and the wood columns are then attached to the brackets.
The end game is, there is a design solution available to fit every future building owner's level of comfort and pocket book when it comes to pressure treated lumber.