Loafer's Sports Bar and Grill
Back in one of my earlier lives, I spent a fair amount of time hanging out in the Baltimore area, as a good friend of mine was going to school at the University of Maryland – Catonsville and I had scored a significant number of $198 round trip air passes from Portland, OR to Baltimore (always seemingly via the old airport in Denver – where I would invariably get stuck due to inclement weather).
It was 1987 when I discovered the then newly refurbished Inner Harbor not long after it was completed and have always found it to be an entertaining area for watching both people and harbor traffic.
Baltimore is the home of many things – Fort McHenry (well worth visiting), Edgar Allen Poe, Babe Ruth and Frank Zappa. In April 1992 Baltimore became home to one of my baseball architectural treasures – Orioles Baseball Park at Camden Yards.
September 6, 1995 I was in the stands at Camden Yards when Cal Ripken broke Lou Gehrig's record for consecutive games played – so I know a little of the turf.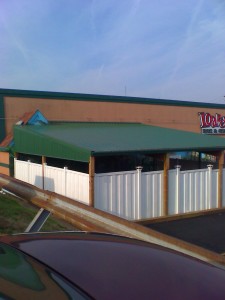 Getting back to Catonsville, just a 10 mile drive West from Camden Yards, was a Pargo's (a now defunct restaurant chain) located at 6518 Baltimore National Pike. The chain closed in 2007, however back in the day it featured specialties such as baked potato soup, Hawaiian rib-eye, spicy queso dip and my favorite – carrot cake.
By 2010, the location had been taken over by Loafer's Sports Bar and Grill (https://marylandsportsbarandgrill.com/). The new owners needed more space and contacted Hansen Pole Buildings to design and provide a unique area for their establishment. Just another facet of our business – designing structures as "add-ons" to existing structures.
Have an existing building you want to make wider? Longer? Call us!
Travelling through Baltimore, or live in the area? Stop by Loafer's for Happy Hour every week day from 11 a.m. to 7 p.m. and if the weather permits – pull up a chair in the Hansen Pole Building!