In the Jungle, The Mighty Jungle….
The only "wimoweh" in this article is now out of the way, and no further mention will be made to the Solomon Linda tune which was originally composed only in Zulu.
You have the song caught in your head now, don't you?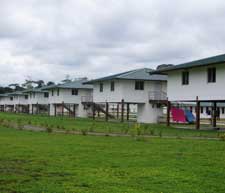 Jungles are not only in Africa. In the deepest jungles of South America, on the banks of the Aguarico River (reached only by a four hour boat ride from Tierras Orientales), is a community comprised of exact identical pole building houses! Jungle Homes!
Playas de Cuyabeno (also known as the Millenium Community) is a modern community built for 68 Kichwa families, in the province of Sucumbios. The $78 million needed for the project came from the exploration of the Panacocha oil field.
The residents were directly involved in giving input for the design and choice of building materials for the pole building homes. Each jungle home is 100 square meters (1076 square feet), with running water, electricity, Wi-Fi, 4G cell phone service and digital TV. While the size may seem small and creature comforts few to most North Americans – keep in mind this is a huge jump upwards for peoples who had formerly lived in swamps.
The city's goal is to minimally impact nature. It has sewage and garbage treatment plants and the only vehicles allowed inside the community are bicycles. The aim is to prevent the migration of younger people from the community. Included in the city infrastructure are schools through high school (over 85% of the indigenous population is currently illiterate), a medical center, a market square, as well as a combined police and fire station.
Now I happen to think a city of pole building homes could potentially be a good thing, as they are highly affordable and can be constructed quickly with minimal tools. Having all of them identical – not so good (I'd be afraid of riding up on my bike after a night out on the town and wandering into the wrong jungle home).
I'm hopeful the Playas de Cuyabeno experiment works out far more successfully than did Henry Ford's Amazonian brainchild – Fordlandia, established in 1928 in Brazil (the book Fordlandia is available on Amazon.com https://www.amazon.com/Fordlandia-Henry-Fords-Forgotten-Jungle/dp/0312429622).
A recent expat visitor to Playas de Cuyabeno had this to say about the visit:
"When I visited, the place looked deserted. Saw only a few children playing outside. It was very spooky, like something out of a sci-fi movie. There are roads, but no cars. This Kichwa community does have internet and a school. But I was told the older people refuse to live there. They prefer to remain on their farms and in their villages. The government cited this community as an example of how oil revenues are helping to improve the lives of the people. But at what cost? I was also told most of the kids living there don't know their native Kichwa language. One wonders what will be left of their culture."