In the early 1980s steel covered pole buildings started to make the move from the steel panels being fastened with nails, to being fastened with screws.
At the time I owned M&W Building Supply Company, in Oregon and Farmland Structures (owned by Jim Betonte) provided erection services for the clients of ours who needed to have their pole building kit packages assembled.
Pole building crews being pole building crews – Jim found out they were using hammers to drive in the screws!! Jim quickly put an end to this bad practice, by purchasing screw guns for the subcontract crews.
Using the right tool (not a hammer) for fastening steel roofing and siding panels is critical for easy installation, proper watertight sealing of the building and the integrity of the connection.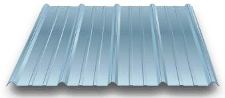 With any steel panel fastening case, screw guns with an adjustable clutch and/or a depth sensing nosepiece, and a minimum of six amps of power are the proper tools of choice. This assures the fasteners are optimally installed. Often (which we recommend) steel panels can be predrilled to prevent walking of the screw point across the surface of the steel …and creating scratches you really didn't want to have. Selecting a tool with the correct RPM (Revolutions Per Minute) is essential for ideal performance of the pole building system.
Drive sockets with a recessed magnet and internal lobular hex design can help to reduce damage on the fastener head, reduce wobble and increase socket life. (Read more on lobular sockets here: https://www.hansenpolebuildings.com/blog/2012/08/lobular-powder-coated-screws/)
Metal chips which accumulate in the magnetic socket need to be regularly removed so the hex head of the screw is fully embedded in the driver socket. This helps to eliminate screw wobble and improve drilling performance.
High speed screw-guns with RPM greater than 2500 should not be used with fasteners used to attach steel panels to the wood framing. When the drill point is rotating and cutting the substrate, it creates friction which generates heat. If the heat is high enough it can damage the hard surface of the screw and cause the screw point to "burn up". Slower speed screw-guns used with less pressure during drilling will minimize the amount of friction, heat and damage to the drill point. High RPM tools can also cause over-driving, damaging the screw head which can lead to premature rusting.
Using the wrong driving bit, or a tool with excessive RPM, can lead to fastener damage and problems, Problems can include damage to screw heads, over-driving, scratches and damage to paint (or powder coating) finishes leading to rusting screw heads.
Check with your pole building kit supplier to see what type of drill bit they recommend for their screws. At Hansen buildings, two free bits are provided with every pole building kit order. We want to get you started on the right track.