Planning Department – Get Permission First, Don't Beg Forgiveness
Every once in a while I read a story and it just makes me wonder, "What were they thinking"?
The story below appeared February 25, 2014 in a Post-Tribune article written by Kitty Conley:
Variance granted for pole barn already under construction
 CROWN POINT — The Lake County Board of Zoning Appeals gave its approval to Robert Biocic on Feb. 19 for an extra-sized pole barn, construction of which had already been started without the owner checking with the county for permission.
The project was noticed and Biocic was told to stop for not having gotten the approval. The fine for starting the project without a permit is considerably larger than the cost of getting the permit in the first place. It is three times the cost of the permit based on the value of construction. Then he still has to pay for the permit fee, according to Steve Nigro, planning and building administrator for Lake County.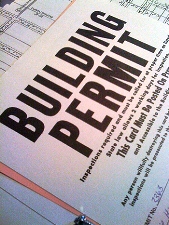 In addition to getting the required building permit, Biocic needed a variance-of-use for putting up a building of 3,134 square feet, where only 1,302 square feet are allowed.
The variance was granted by the BZA for construction on the 1.2 acres at 12952 W. 181st Ave. in West Creek Township.
All I can say is this building owner was extremely lucky. He could very easily have been forced to tear down his partially constructed building!
It is so easy to play by the rules. Start with your jurisdiction's Planning Department….before considering building anything.
To know what to do at the Planning Department: https://www.hansenpolebuildings.com/blog/2013/01/planning-department-3/
Notice, the route taken by Mr. Biocic was not an inexpensive one – he was fined three times the cost of the Building Permit!
What the article does not say is – I am wondering if this building owner's life is going to be made miserable during the inspection process. Planning and Building Departments do not look favorably upon those who do not play by the rules!