Great Ideas May Not Always Bring Great Results
Much ado has been made about alternatives to CCA (Chromated Copper Arsenate) pressure preservative treated lumber. CCA has been used to pressure treat lumber since the 1940s. Since the 1970s, the majority of the wood used in outdoor residential settings (as well as pole buildings) has been CCA-treated wood. Effective December 31, 2003, no wood treater or manufacturer may treat wood with CCA for residential uses, with certain exceptions.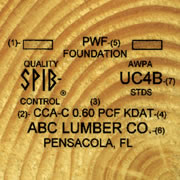 This resulted in a plethora of alternative pressure preservative treatment chemicals being introduced which, on the surface, sound like a veritable alphabet soup – ACQ, CA-B, CA-C, MCA, etc.
Although not used for preservation of timbers for structural in ground use, there have been some interesting alternatives, not all of which have necessarily worked in all cases.
Brad Pitt's Make It Right Foundation has built 100 energy-efficient and eco-friendly houses in New Orleans to replace homes damaged by Hurricane Katrina. Unfortunately, the organization believes that some of the wood it used is now rotting, reports The New Orleans Advocate.
The organization used TimberSIL®, an innovative glass-infused wood product produced by a South Carolina manufacturer, to build porches and outside steps. The absence of chromated copper arsenate and other chemicals typically used to prevent rot and decay was a selling point for Make It Right.
"Instead of treating the wood with toxic chemicals, it's actually infused with sand, or silica, such that it takes on the properties of treated lumber," Tom Darden, the executive director of Make It Right, said in a 2010 interview. "At the end of its life cycle, which is estimated to be about 300 years, it can be mulched and composted, believe it or not."
Unfortunately, Make It Right has found TimberSIL® can't stand the moisture in the balmy city and has turned dark gray and begun falling apart. The organization has replaced wood in 30 homes and is considering legal action. TimberSIL® has reportedly caused trouble for at least one other client: a project in Western Massachusetts which had to be repaired when the builders found the wood retained too much moisture and couldn't hold paint.
With more and more pole buildings being used for residential purposes, with alternative sidings to the traditional steel, as well as attached decks, it would behoove some serious research and consideration (in this author's humble opinion) before utilization of this particular product