DEAR POLE BARN GURU: Do you have to set laminated pole so you see the 1.5 side of the 2×6's while looking in or out of the building? I was thinking of using 4ply 2×6 post 10′ out of the ground every 8′ while book shelving with 2×6's in between posts. I thought it would be a lot faster to notch both sides of the post for the 2×10's to sit in, just cutting out one 2×6 off of each side leaving 2 in the middle seems a lot faster than notching all 3 plays on a standard laminated post. My building won't be very high and I heard book shelving greatly improves racking from side to side. Was planning on the book shelf being 2'OC didn't know if going 16″OC would improve this design or if it is just unheard of turning the post sideways. I do understand that this makes the post 5.5″x6″ but the extra .5″ is of no concern since it is for a garage and I will just be sheeting it with 7/16″ OSB anyway.
Thanks in advance Mike CHRIS in DUNCANSVILLE
DEAR CHRIS: If by laminated you mean a true glulaminated column – then you can set it any direction as it has become a true one piece unit. If you are talking nailed up columns, or ones which use nails and construction adhesive (or through wires), those must be set with the 1-1/2″ sides of the 2x6s towards the wind. A 4ply 2×6 glulam will measure 5-1/2 inches by 5-3/8 inches, so there is no extra 1/2 inch to worry about.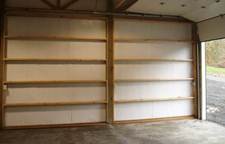 Now I will totally upset your apple cart – how about doing away with the truss carriers entirely? And place the columns every 10 or 12 feet, instead of every eight? You can use a double truss system, with purlins on edge between the trusses and eliminate about 50% of the pieces you would otherwise need to handle and install – with the added benefit of not having to drill so many holes!! You can view sample plans for post frame buildings constructed in this fashion here: https://www.hansenpolebuildings.com/sample-building-plans/.
Book shelf girts are going to be far stronger against wind loads, I've used them on all of my current buildings and wouldn't do them any other way. Two foot centers will adequately support far greater loads than will ever be imposed on most buildings.

DEAR POLE BARN GURU: Can a cloth type material like is used with BIBS or house wrap be used as a "ceiling" to hold up the insulation above it, or would there be excessive sagging or other problems? Not so concerned with aesthetics given my needs. Thanks. DAVID in MARYVILLE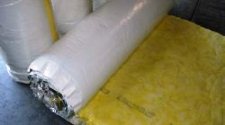 DEAR DAVID ~ Depending upon how far you are spanning between trusses or ceiling joists there may be a fair amount of sag – however it should work as long as you can adequately attach the material. I've seen people use chicken wire stapled to the underside of double trusses which were spaced every 12 feet to support unfaced insulation batts.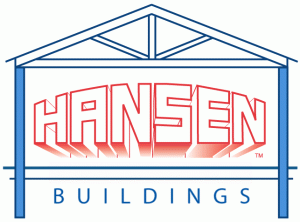 DEAR POLE BARN GURU: How can I become a certified contractor/builder of Hansen Pole Buildings? BRANDON in BALTIMORE
DEAR BRANDON: Here is the link to the application on the Hansen Pole Buildings website, please fill it out completely in order to be considered: https://www.hansenpolebuildings.com/hansen-buildings-contractor-program/.