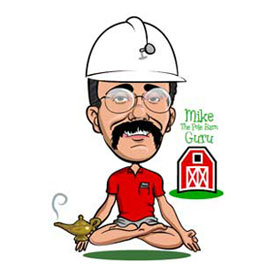 Welcome to Ask the Pole Barn Guru – where you can ask questions about building topics, with answers posted on Mondays.  With many questions to answer, please be patient to watch for yours to come up on a future Monday segment.  If you want a quick answer, please be sure to answer with a "reply-able" email address.
Email all questions to: PoleBarnGuru@HansenPoleBuildings.com
DEAR POLE BARN GURU: Hello, I am interested in this construction method, but I was wondering what is the maximum wind load that your buildings can take? Thank you for your time. WHISTLING IN THE WIND                                  
DEAR WHISTLING: We've designed pole buildings resist wind speeds up to 170 miles per hour. For all practical purposes, we could design for any wind speed and exposure condition desired.
DEAR POLE BARN GURU: What is the mil thickness of plastic to lay down in a
pole barn before the rock for moisture protection and do you carry the
product? MOIST IN MISSOURI
DEAR MOIST: If you are not intending to pour a concrete floor, then a black visqueen of at least 6 mil thickness should be used. For use under a concrete slab, the best product would be A2V insulation, which is available for direct purchase at:
www.buyreflectiveinsulation.com
There is an insulation calculator on the website to help you figure out how many rolls to purchase.
DEAR POLE BARN GURU: I am planning on constructing a 48' x 48' roof only pole barn. I would like to put a couple bags of sakcrete in the bottom of hole and then pour the rest when I pour the pad.  I am planning on putting rebar down into both sakcrete and have it stick up so it will connect to the other concrete.  Will this be ok?  If not, recommendations? STUCK ON SAKCRETE
DEAR STUCK: Sakcrete can be a great and practical solution to many problems, however this application is not any of those.
To begin with, a couple of bags of sakcrete will not provide an adequate footing under the columns. With your loading conditions, a 30 inch diameter by eight inch thick footing pad would be required. It would take eight 90 pound bags of sakcrete to pour each footing. It may not be practical to haul home almost four tons of sakcrete.
Even if you do pour adequate footings, you are quickly going to find out how challenging it is to work on a roof only structure, where the columns are not stabilized. Even with the columns braced in all four directions (which is going to require investing in a lot of extra material), there is going to be a significant amount of movement in the columns, as the roof system is framed and roofing installed.
Why fight it?
My recommendation would be to just concrete backfill the columns and footings monolithically in a single pour. It will take about nine yards of redi-mix, so it isn't like there is going to be some big savings by waiting to pour the balance of the holes with the floor.