When the problem isn't the problem….
Two recent fires in Chautauqua County, New York involving steel roofs have raised a potential problem for firefighters.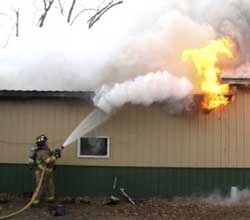 Fire officials say the durable material used in roofing is becoming more common as building owners turn to alternative options.
However, as highlighted with recent blazes in Sinclairville and Westfield, N.Y., steel roofs – most of which are advertised as flame resistant – are making it harder to fight fires.
Steel roofs are all too often being built on top of more than just underlying roof purlins (the framing which directly supports the steel roofing). When placed over existing asphalt material (as in the case of a reroof) or on top of plywood or osb (oriented strand board) – additional layers are formed for firemen to cut through when ventilating a pole barn fire. Without an escape, smoke and heat remain trapped within the building, creating an unsafe environment for firefighters.
Recent fires involving steel roofs are drawing focus to the dangers faced by firefighters. Multiple layers of roof sheathing and roofing keep a lot of the fire inside any attic spaces.
Fire crews have noted a normal shingle roof burns through much quicker than does a steel roof.
When sheathing or other layers of roofing are beneath steel roofing, and are ignited, the steel traps the fire inside, making for a much hotter attic and blaze.
The solution is to avoid the potential problem entirely. When steel roofing is applied directly over roof purlins, there is no underlying material to be trapped burning directly below the roofing. Firefighters have equipment which allows them to saw through steel roofing to vent attic areas; however the challenge arises when materials, which in reality are not needed structurally, are in place below the steel.
A side benefit – steel roofing becomes a far more affordable option, when not placed over plywood or osb!