Build your own garage, shop or barn in this economy?  With unemployment remaining in the nine percent range and the economy sputtering along, the last few years have been less than perfect.  Real estate has continued on an ugly path with no end in sight.  There couldn't have been any Americans crazy enough to act as the general contractor for their own new pole building right?  According to the Census Bureau, a whopping 53,000 owner built homes were completed for owner occupancy on the owner's land in 2010.  Let's dig a little deeper into the census numbers so we can answer the question most of us have…why would you want to build your own building in today's nasty environment?
Owner built is another way of saying the owner acted as the general contractor for the project.  As the general contractor, the owner takes on the full responsibility for the budget, quality, and overall schedule of the project and either does the work himself or hires trades to do most of the labor.  So, even with the sluggish economy, a huge group of Americans are taking on their dream building projects.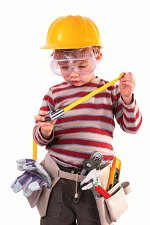 But everyone keeps saying how difficult it is to get a loan, so how did they get owner-builder financing? Surely a bank wouldn't make a risky loan to an owner who thinks he knows enough to get it done.  I can hear it now, "Build your own building?  We don't do owner-builder loans anymore."  According to the census numbers, seventy percent of owner-built homes in 2010 were financed with conventional loans and twenty-eight percent paid in cash.  Apparently, all the horror stories heard about how it's nearly impossible to get a loan today are more than a bit exaggerated.
If you decided to build your own building in 2010, you must live on a farm where building codes aren't enforced…we've all heard of the Amish barn raisings right? Actually, most owner built buildings were built inside metropolitan statistical areas. These were code conforming buildings!
Owner built projects may have been motivated by the slowing in labor and material costs for building.  According to the Associated General Contractors of America, the producer price index (PPI) for nonresidential (accessory buildings, garages, shops, barns, etc.) buildings rose only 0.3 percent during 2009.  This price change was a huge improvement over the previous several years.  As recently as 2003, this PPI was 9.3 percent and from 2003-2007, the average increase was nearly six and one-half percent per year!
So, 53,000 of you out there decided to build your own home in 2010.  This represents about eleven percent 11% of all new homes built in the U.S. in 2010.  How does this compare with other countries?  Believe it or not, the U.S. is way behind other countries in built-by-owners each year.  A whopping 80% in Austria are built by owner.  Most of Europe is at or above 50%.  What are these countries doing which makes so many more people take on these projects themselves?  What would make you take the plunge and build your own building?  Speaking about self-builders UK minister Grant Shapps feels they deliver "more affordable, greener and innovatively-designed buildings".
Acting as the general contractor to build your dream project is a great way to save money and get exactly what you want.  More and more Americans are realizing this every year.  Whether you are an accountant, lawyer or writer, you can take on the responsibility of the builder and save tens of thousands of dollars on your new pole building.  Is this the year for you to build your own building?