Continued from yesterday's Part I on overhead door R-values…
Are the reported R-values even accurate?
There's another potential problem with the R-values reported by garage-door manufacturers: even if one accepts the fact the advertised R-values represent center-of-panel values rather than whole-door values, the numbers are still higher than most insulation experts believe are possible.
Several manufacturers report their polyurethane-insulated door panels have R-values between R-8.6 and R-9.0 per inch — values which are highly unlikely if not technically impossible, even for the center of a door panel.
"The R-value of polyurethane decreases with age," said Yarbrough. "When it is absolutely fresh you might get R-7.5 per inch, but a realistic aged R-value would be lower — perhaps about R-6.5 per inch would be on the high end. I'm not sure I can explain these reported test results. I have seen labs make mistakes before. I think it's an error."
What about air leakage?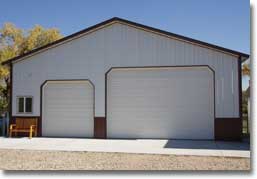 If garage-door manufacturers ever decide to report whole-door U-factors or whole-door R-values — an important piece of the door-rating puzzle will still be missing. The reason: when it comes to the thermal performance of garage doors, air leakage matters much more than R-value.
"Garage doors are so leaky that they are difficult to test," Thoman said. "Their leaks exceed the capabilities of the available testing apparatus."
When he needed to buy a garage door for his own house, Thoman ignored advertised R-values. "I find it almost offensive that garage-door manufacturers even publish the R-value of the insulation material," Thoman told Holladay. "I hate it when I see that, because it's not a representation of the door's performance. Air leakage is a much more important issue than the R-value of the door."
The bottom line
Although some garage-door manufacturers have measured the whole-door U-factor and air-leakage characteristics of their doors, most won't release the data. Until they do, purchasers of garage doors have to select their doors based on anecdotes.
Unfortunately, Sectional Garage Doors can't be installed air tight, there needs to be room for the door to slide up and down against the jambs.  These little spaces let cold air draft in and negate much of the insulating which was done in door construction.
Some of the drafts can be stopped with a vinyl weather seal around the door and bottom seal, or astrigal, can fill in the space along the bottom of the door depending on how level and even the floor is.
Back to why your post frame building needs an insulated overhead door.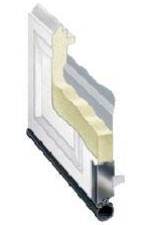 More insulation, of course. An uninsulated overhead door is barely a step above an open hole in the wall.
A stronger, more rigid door.  Both polystyrene sandwich doors and polyurethane doors are bonded to the steel to make them stronger.  They hold up to better to moderate abuse. Be realistic, there is no door which will hold up to a vehicle bumper.
They are much quieter.  The bonding eliminates most of the rattling which comes with pan (uninsulated steel) doors or as they are referred to as 'Beer Can Doors".  
And, while you are at it, make sure your insulated overhead door is appropriately wind load rated: https://www.hansenpolebuildings.com/2014/12/wind-load-rated-garage-doors/.