A Real Life Case for Pole Barn Bollards
My long-time readers will remember my expounding upon why bollards should be strategically placed around post frame (pole barn) buildings where big things might hit them and go boom. In the event my earlier article did not thoroughly sink in, here is a real life example of where bollards should have been.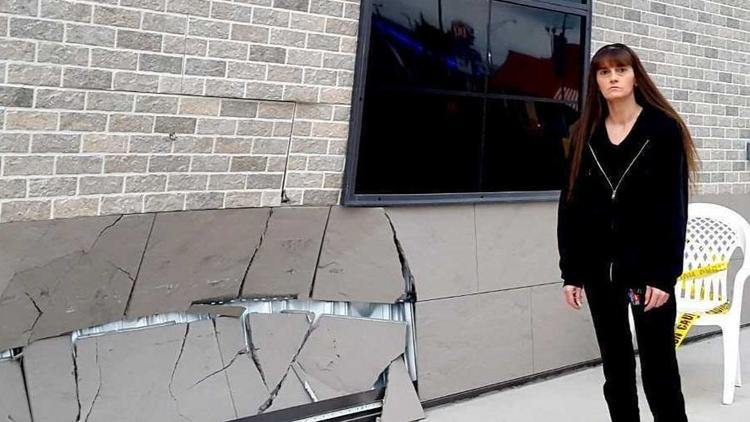 Dollar General assistant manager Susan Barrett stands in front of the damage after a car hit the front of the new store. (Carrie Napoleon / Post-Tribune)
Article by Carrie Napolean in June 20, 2018 Chicago Tribune
Less than a week after the newly constructed Dollar General store at 3315 45th St. in Highland opened for business, a vehicle Monday crashed into the front façade.
The crash happened around 5:30 p.m. Monday while the store was open. Susan Barrett, the store's assistant manager, said she "heard a big boom" and knew just what to expect.
"I've been through that experience before," Barrett said. So, when she stepped outside, she was not surprised to see a vehicle had slammed into the front of the building.
The driver of the vehicle ran over the curb and into the building damaging the façade, window and underlying pole barn structure and had backed up back into the parking space, according to police.
Highland Police Commander John Banasiak said the department received the call about a private property damage accident around 5:20 p.m. Monday.
When they arrived at Dollar General they discovered a black GMC Sierra a few feet away from a large dent in the front of the store. The front end of the vehicle had damage to the bumper, hood and grill.
Banasiak said the driver said she was traveling north in the parking lot and attempted to brake but the vehicle kept moving. A witness to the crash told police the vehicle stopped, then accelerated forward into the building, he said.
"Fortunately no one was hurt," Banasiak said.
No charges were filed and no citations were issued, he said. The matter will be handled through the driver's vehicle insurance, he said.
The store remained open and the interior was not impacted by the crash.
Barrett said the damage was a disappointment after the hard work the entire staff put in to set up the new store and physically move all the merchandise there from the former location next door.
"We haven't even been open for a week," she said.
P.S. While Hansen Pole Buildings does not provide bollards, we can provide your next Dollar General® or any other low rise commercial building.