Today's Pole Barn Guru answers questions about the price for trusses, anchoring a stud wall, and the location of a sill plate.
DEAR POLE BARN GURU: Price for 80 foot trusses. CHUCK in ELYRIA
DEAR CHUCK: Price for trusses is going to vary depending upon numerous factors including, but not limited to, roof slope, spacing, heel height, roofing material, roof sheathing, ceiling load, snow load, design wind speed and exposure, is building fully or partially enclosed. Trusses 60 feet and greater in span also require a Registered Professional Engineer to design and inspect both temporary and permanent truss bracing.
(Read more on wide span trusses here: https://www.hansenpolebuildings.com/2013/12/wide-span-trusses/)
Once you have all your specifics together, you might visit your local The Home Depot® and talk with a Pro Associate at their Pro Desk, who can get you pricing delivered to your site.
DEAR POLE BARN GURU: Building in phases, particularly the inside stud wall work. Should we decide to alter wall locations, or remodel in the future how to I avoid anchoring a new stud wall location into a pex line used for radiant heating? Can the pex be placed deep enough to not place an anchor thru it yet at a depth to provide effective heat?
Thanks . PAUL in LEXINGTON
DEAR PAUL: You might try using a polyurethane adhesive such as Loctite PL Premium .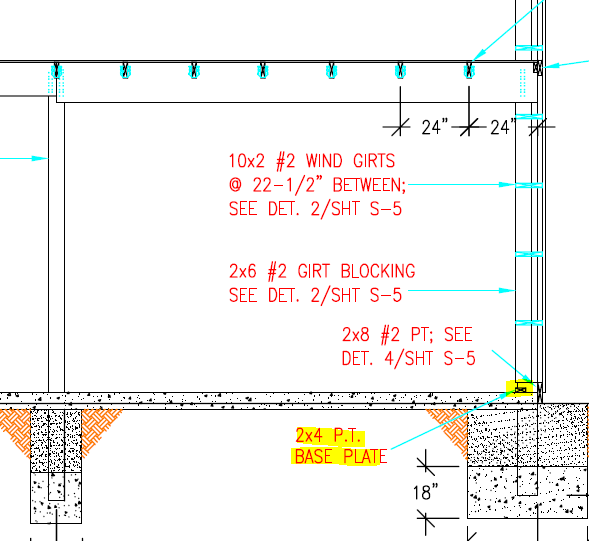 DEAR POLE BARN GURU: I put a sill plate down even with the concrete, but the picture is showing a 1-1/2 inch space. How can I fix this so my pole barn goes up correctly? DAWN in GREENVILLE
DEAR DAWN: Usually I can guess at what a question's intent is, however in your case I cannot, no email address was provided and you do not appear to be a client of ours. Can you please share your picture with me?