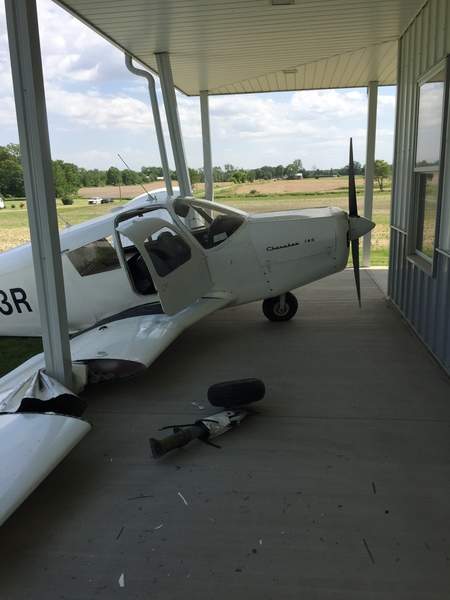 In all fairness to the airplane, it actually rolled onto the patio of a pole barn. The airstrip, near Auburn, Indiana, is a grassy field. The 74 year-old pilot of the 1965 Cherokee 140 airplane lost control of the plane while attempting to takeoff – so it actually did not "fall" into the pole barn (more technically post frame building).
Surprisingly enough, even though the plane never lifted off, the FAA (Federal Aviation Administration) is responsible for handling the investigation. It is my humble opinion the pole barn will be entirely exonerated of any culpability in the case.
As of 2014 there were just under 200,000 privately registered aircraft in the United States. Interestingly enough, up until 2010 once an aircraft registration was assigned, it lasted forever without renewal. The rules then changed, so owners would have to register them every three years.
The reason for this change in rules? The FAA had lost track of how many airplanes in the nation were actively still around! The cost of registration? All of five dollars. This assumes a renewal notice was received from the FAA, which many pilots do not get because planes change hands on a frequent basis and there was no mechanism in place to keep owner's names and addresses current.
Among the owners of planes who recently had their registrations expire has been the owner of Cessna N725DT, our own president, Mr. Donald Trump!
Most pilots would prefer to have their one of 200,000 planes housed inside of pole barn hangars, rather than parked not so cleanly into the side of one.
I read a recent article posted by a pilot, in regards to parking at his airport. His parking costs – $35 per month outside or $235 to rent a hangar. Besides parking his plane in the hangar, he also stores a car, motorcycle, furniture and other boxes of stuff which used to fill his garage. In his mind, the hangar is almost free when he views it as being a large storage unit and private workshop.
When looking at renting a hangar – building your own post frame hangar might be a viable proposition. The $235 monthly rent would make the payments on a $20,000 hangar which you would then own, instead of being subjected to the whims and will of a landlord.
Looking for a hangar? The answer could be closer than you think with a new post frame building!
Planning your new hangar? Get a few tips here: https://www.hansenpolebuildings.com/2013/09/hangar-2/