Champion Sliding Doors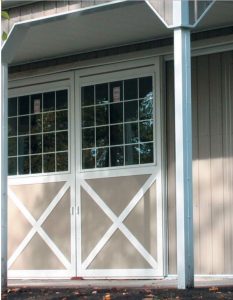 Hansen Pole Buildings is a distributor for Plyco Champion Sliding Doors.  Champion sliding doors can be ordered as a part of any complete Hansen Pole Buildings kit package. We do not offer any type of doors by themselves, due to challenges of shipping damage.
While sliding doors are not an answer to all large door situations, they certainly have their place in agricultural applications, most frequently in horse barns and riding arenas. Not every client is interested in a standard steel siding covered sliding door. For aesthetic purposes, some prefer upgraded sliding doors which include cross-bucks and, in some cases, windows.
These doors are available in 36 standard sizes and styles, including both double (bi-parting or split) doors and single door configurations, with or without tempered glass window grids. Standard sizes for single doors range from four feet wide by eight feet tall to six foot by 12 foot. Standard double door sizes range from eight foot by eight foot to 12 foot by 12 foot. Custom sizes are also available. You can pick the size you want. How cool is that?!
Champion Sliding Doors are compatible with all sliding door track and hardware.  Champion Sliding Door components consist of rugged aluminum side rails, aluminum cross-bucks, galvanized steel girts and steel inserts.
All components are pre-cut and pre-drilled, allowing for easy assembly by either Do It Yourselfers or their builders at your building site. Fasteners are included, as are complete assembly instructions. Building owners or builders are required to furnish plywood to appropriately back steel inserts.
Champion Sliding Doors are offered in a myriad of colors. Vertical members and cross bucks are offered in 10 different colors which match Plyco dutch door colors. The steel inserts are available in 14 different colors which also match inserts of Plyco dutch doors.
Want to add some upgraded style to your next post frame building? If so, then Plyco Champion Sliding Doors might be an option to consider.