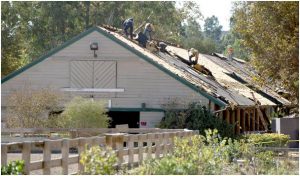 Photo by Jeff Gritchen, Orange County Register
Truthfully, I am not one of those people who sits mesmerized in front of the television watching every last minute of the Olympic Games. Some of it is probably from my general refusal to watch network television in general.
I could not tell you who won any events (either individual or as a country). Being as far removed as I am from it – I did not at all surprise myself when I realized I had never heard of the Olympic event known as the "Modern Pentathlon".
After reviving the Olympic Games in 1896, Baron Pierre de Coubertin "modernized" the pentathlon, making it a test of "a man's moral qualities as much as his physical resources and skills, producing thereby the ideal, complete athlete." The narrative behind the event told of a soldier ordered to deliver a message on horseback. When the horse went down, he was forced to defend himself with both a sword and pistol. He completed his mission by swimming across a river and running a long distance through the woods.
Sounds like a trailer for a Hollywood production to me!
Back in 1984, the Equestrian Center in Coto de Caze (Orange County, California) hosted the Olympic pentathlon.
The same equestrian center has again been in the news, however for its demise, rather than for making Italian Daniele Masala the Gold Medal winner 32 years ago.
According to Nathan Percy (staff writer for the OC Register), the barn is "one of the last remaining pole-barn structures in California."
Given the number of post frame (pole barn) buildings Hansen Pole Buildings alone provides in California every year, the writer might have availed himself of some added research prior to making the above statement.
But, I digress – why is the barn being torn down, one might ask?
Oak Grove, LLC (a developer) wants to rezone part of the equestrian center and the adjacent Merryhill School site to allow for development of the 13 homes, ranging in size from 12,000 to 18,513 square feet. In my humble opinion, these are some monster sized homes and certainly far beyond anything this writer would want, need or be willing to clean!
In response to the demolition beginning, "It's like getting kicked in the gut, or having your heart ripped out," said Denise Trizinsky, a recreational riding trainer at the center since 1994. "(Oak Grove) wants to downsize it. This place should be renovated, if anything."
Trizinsky, 57, who has seen other equestrian centers fold to developers, said she hoped the Coto Equestrian Center wouldn't follow suit.
"This is the one I felt was a stronghold because it's iconic," she said. "For him, it's business, but for us, it's passion. It's about the horses." Continue reading →