Helping you to NOT be like this guy on a ladder…
As my father died from a construction fall, I am always a bit sensitive towards safety on jobsites when it comes to possible falls. While Hansen Pole Buildings does not construct anything, we want all of our clients, or their contractors, to live to build another day.
The following was originally published March 6, 2017 by National Framers Council:
"In a day and age when "Idiots on Ladders" win contests, and some researchers suggest that human beings are hardwired for bad decisions, the reasons for an industry-wide focus on ladder safety seem apparent. While a hearty laugh at another's unbelievable choices make for a good Facebook post, the reality of the situation is much more sobering. A 2014 report from the Centers for Disease Control and Prevention indicated that work-related falls from ladders caused 113 deaths and almost 15,500 nonfatal injuries that resulted in at least one day away from work in 2011.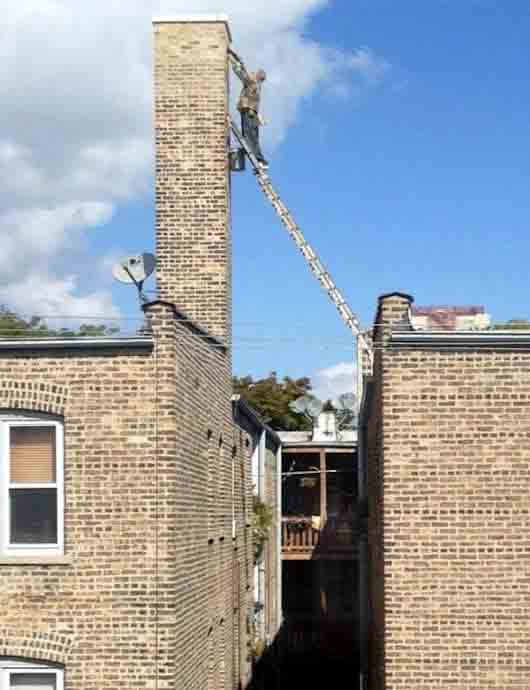 According to OSHA, one in five worker fatalities in the private sector reported in 2015 were in construction, with falls being the leading cause of death at 38.8 percent. In 2016, fall protection violations were once again number one on OSHA's list of most frequently cited OSHA standard violations, with ladder citation making the list at number seven.
Besides avoiding the obvious (and sometimes comically depicted) no-no's of the proper use of this vital framing tool, "ladder safety really boils down to daily inspection and proper use," explains NFC Safety Committee Chair Kenny Shifflett of Ace Carpentry in Manassas, Virginia. "Ladders should be inspected prior to every use and taken out of service if damage is found."
As is the case with any facet of jobsite safety, proper training and accountability are paramount. When the National Framers Council (NFC) created the FrameSAFE program, the safety committee dedicated a great deal of time and effort to developing the fall protection modules, including specific resources for promoting ladder safety.
To foster greater awareness of the safe use of ladders this month and throughout the year, NFC is making its FrameSAFE Toolbox Talk on the proper use of extension ladders available for free download until the end of March. Check out the full library of Toolbox Talks available with a FrameSAFE subscription. These documents are key to developing an ongoing culture of safety."
The NFC website is: https://www.framerscouncil.org/.
When it comes to constructing your new post frame building, have fun, be safe!