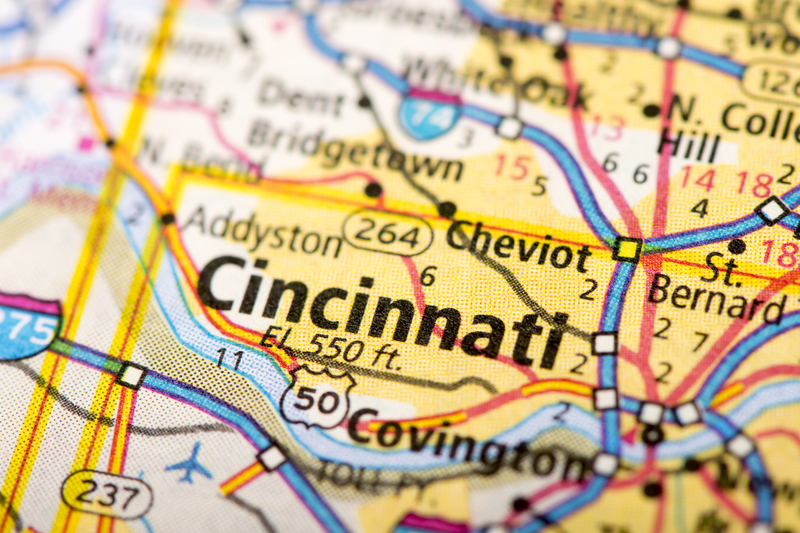 Why are pole barn kits popular in Cincinnati, OH? Due to their durability, versatility, and easy construction, our pole building kits are the go-to choice for residential, commercial, and agricultural buildings across the state. Hansen Pole Buildings is one of the top distributors of pole barns in the United States, and we're proud to be serving Cincinnati with pole building kits in a variety of sizes and functions.
Pole buildings and pole barn kits are popular in Cincinnati, OH, and other Midwestern states, like Illinois, Indiana, Iowa, Kansas, Michigan, Minnesota, Missouri, Nebraska, North Dakota, South Dakota, and Wisconsin.
Hansen Pole Buildings offers a variety of different pole barn sizes in Cincinnati, and we promise competitive prices. We'll even match the price of a pole barn if another company offers you a lower quote for an identical kit.
Pole Barns are in high demand in these other Ohio cities as well:
Cincinati, OH
Cleveland, OH
Dayton, OH
Cincinnati, Ohio Pole Barn Building Types
Pole barns serve a variety of functions, and their versatility and flexible designs allow them to be personalized to fit your unique needs. The following building types are popular in the Midwestern region for several reasons:
Cincinnati pole building homes are a popular choice for individuals who want to create their own homes without extensive design or construction experience. Pole barn kits can be customized to meet specific needs so people never have to compromise on building the home of their dreams.
Midwestern families are known for their love of the open road. For those who don't travel in their RV year-round, an RV storage building is an easy, affordable way to keep a vehicle protected during the off season.
For personal projects or a commercial workspace, pole buildings are convenient solutions for workshops. Ohio is known for its industrious people, which explains why residential and commercial workshops are in high demand.
These pole barns are built and used for a variety of reasons, including agricultural purposes. With such a large agriculture industry in Ohio, many residents rely on the ease and affordability of garage pole buildings for storage.
Build the Pole Barn You've Always Wanted
Hansen Pole Buildings has a variety of different pole building kits available in Cincinnati. Some popular types of pole buildings include:
Find the Best Local Pole Barn Builder in Cincinnati
Our pole building kits are designed so that even the most unskilled builder can treat it as a DIY project, without the help of a hired contractor. However, there are multiple options when it comes to putting your pole barn together.
Build It Yourself
Each one of our pole building kits is designed so that you can build it yourself with ease. Our designs are accessible to people of all skill levels, with clear instructions that anyone can follow. Building your pole barn yourself will help you save significantly on building costs.
Cincinnati Construction Companies
Call Hansen Pole Buildings for assistance with finding a construction company that can build your pole barn. We are not affiliated with these companies, but we stand by their quality.
Cincinnati Pole Barn Contractors
If you have knowledge of reliable contractors in your area, we suggest hiring someone you trust to help you with your pole building. However, if you need assistance with finding a pole barn builder, contact our office for a list of approved contractors in Cincinnati.
Pole Building and Pole Barn Pricing
Pole building kit prices in Cincinnati will vary based on the size and which custom features you choose to include. Our price ranges fall into three categories:
Small Pole Barn Prices
Perfect for sheds and small garages, small pole barns are the most affordable option, but the exact price will vary depending on your design and which features you choose to include in it. Some examples of a small pole building include:
Medium Pole Barn Prices
Medium pole buildings are often used for barns, large equipment storage, or a multi-car garage. Prices change depending on any custom features or add-ons included in your design.
Large Pole Barn Prices
For extra-large storage space, we recommend inquiring about a large pole barn. Our large pole barns are incredibly versatile and can come with a variety of customizations to suit every individual's needs. Some popular uses for large pole barns include:
Get A Free Quote!
Pole Barn Kits Also Available in These Regions
Not looking for a pole barn in Cincinnati? Our pole building kits are also available in the following regions:
Order pole building kits in Connecticut, Delaware, Maine, Massachusetts, New Hampshire, New Jersey, New York, Pennsylvania, Rhode Island, or Vermont.
Pole barn kits are available in Alabama, Arkansas, Florida, Georgia, Kentucky, Louisiana, Maryland, Mississippi, North Carolina, South Carolina, Tennessee, Virginia, and West Virginia.
Order a pole barn in Arizona, New Mexico, Oklahoma, or Texas.
You can get pole building kits in Alaska, California, Colorado, Hawaii, Idaho, Montana, Nevada, Oregon, Utah, Washington, and Wyoming.
Get Started Today
Whether you need a pole barn kit delivered to Cincinnati or Cleveland, Dayton you can trust Hansen Pole for the most durable pole barns in Ohio listed at the best price. We're happy to answer any questions you may have – simply give us a ring at 866-200-9657 to speak with a pole barn expert today.
Get A Free Quote!