Hart and Home YouTube – Episode II

If you missed our previous episode, please go to bottom of this article, on left, and click on arrow to go to Hart and Home YouTube – Episode I. Moving forward:

Planning and Consultation – our Building Design team will work with you, for as long as it takes and with as many revisions as are necessary to assist you in not making crucial errors you will regret forever. Whether it takes one quote or a hundred, we will get you there.

Since Kevin and Whitney ordered their building, I have penned this article: https://hansenpolebuildings.com/2021/02/a-shortlist-for-smooth-barndominium-sailing/. In a year it has (with nearly 100,000 reads) become my third most read blog article of all time!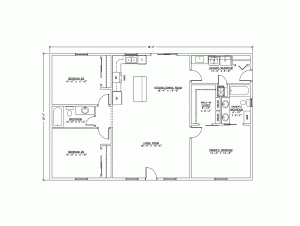 We have also added an in-house Barndominium Floor Plan Specialist to our team. This service creates for you your ideal dream floor plan, as every barndominium Hansen Pole Buildings provides is 100% custom designed to best meet our clients and their loved ones wants and needs. Professional floor plans and elevation drawings can be yours for as little as $695 and should you happen to move forward and order your barndominium from us, we offer a credit back against your investment of $695 – effectively making this a free service for a one story barndominium!

You can find out more about this service here: https://hansenpolebuildings.com/post-frame-floor-plans/?fbclid=IwAR2ta5IFSxrltv5eAyBVmg-JUsoPfy9hbWtP86svOTPfG1q5pGmfhA7yd5Q
Shipping phase – unless you have hidden in a cave during the COVID-19 era, you have read, heard or seen on TV numerous supply chain challenges. Pre-COVID we could deliver most any building, anywhere in two to three weeks. Now we ask our clients to allow eight to 12 weeks, due to seemingly totally random unavailability of products. Special order items, most noticeably non-standard windows and doors, can take even longer.

You may have noticed fuel getting increasingly more expensive. Back in my early days in post frame, this was a different case – fuel was cheap and it made sense to have our vendors deliver to our yard, we would then custom package your building components and deliver on our fleet of trucks. Well, not only are fuel costs rising, those trucks are not inexpensive either. We have become logistical wizards and now rely primarily upon our partner suppliers and manufacturers to ship direct to your site (other than specialty items shipped from our warehouse). Many of these deliver on route trucks, making numerous deliveries allowing for shipping costs to be split amongst a plethora of orders. This process allows for us to hold costs of transportation to a minimum. As well, we do not tie up hundreds of thousands (or millions) of dollars in flooring huge inventories. It also reduces the number of times any given item is handled, minimizing possible damage.

One challenge we are brainstorming upon (and could use your input on) is getting all of these vendors to call our clients prior to delivery. Our Purchase Orders give explicit instructions to call 24 to 48 hours prior to anticipated deliveries. We have found our steel roofing and siding partners to be best at this, however for some other vendors this struggle is real, as making an actual phone call is seemingly near impossible.

Lumber quality – we deal with wholesale lumber providers all across America. In most instances, they go out of their way to deliver high quality materials to our clients. Because we are repeat, volume purchasers, our clients typically find they are getting better lumber than they would get as a one-time buyer (not to mention we can source product from vendors who will not sell direct to the public). 
Our Construction Manual does devote four pages to lumber delivery and quality. Our Materials Department also provides information via email, as we want each of our clients to receive materials within grade specifications. Prompt reporting of non-conforming lumber allows for us to have our providers make no charge replacements (as in Kevin's case with his bad column).

Catch you soon for our next episode!