This week the Pole Barn Guru answers reader questions about whether or not Hansen can provide a residential building kit in their area, if Mike advises the use of I-Joists as purlins, and post proximity– how close can two posts be to each other?
DEAR POLE BARN GURU: Do you build residential buildings in the greater Fort Wayne, IN area? BRIAN in FORT WAYNE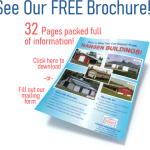 DEAR BRIAN: Hansen Pole Buildings provides fully engineered, custom designed post frame buildings, with multiple buildings in all 50 states (including roughly a hundred of them in Indiana). We ship from over 4000 locations – so chances are we are 'close' to you! Your new building will be designed for an average physically capable person who can and will read instructions to successfully construct your own beautiful buildings (and many of our clients do DIY). Your building will come with full 24" x 36" structural blueprints detailing the location and attachment of every piece (suitable for obtaining Building Permits), a 500 page fully illustrated step-by-step installation manual, as well as unlimited technical support from people who have actually built buildings. For those without the time or inclination, we have an extensive independent Builder Network covering the contiguous 48 states. We can assist you in getting erection labor pricing as well as introducing you to potential builders. We would appreciate the opportunity to participate in your new home. Please email your building plans, site address and best contact number to our Design Studio Manager caleb@hansenpolebuildings.com or dial (866)200-9657 for immediate assistance.
DEAR POLE BARN GURU: I've read your reasonings and seen your snippets of engineering drawings that spec 2x purlins hanging between trusses. I'm wondering if now that I-joists are becoming so popular for residential use, if you've ever tried to use them as purlins. A 9.5″ I-joist would allow for 8″ of mixed closed and open cell spray foam, and a bottom flange of 1.5″ for light fixtures, wiring, etc. And I think I-joists would be lighter than 2x10s (and in this economy maybe even cost less!).
Thank you,
Thinking About A Hansen Handsome Barndominium, Or more accurately, GUY in JOHNSON CITY
DEAR GUY: I've used engineered floor trusses for roof purlins, but never I-joists. While I do not personally like them for floors (I find them bouncy), they do work as a replacement for dimensional lumber joists and rafters. I-joists are fairly strong when loads are applied directly perpendicular, however they are not strong in weak axis bending (e.g. loads applied when they are rotated from vertical). While they might work as roof purlins, it would take a significant amount of blocking and/or bracing plus some healthy engineering analysis in order to design a system to restrain them from buckling.
DEAR POLE BARN GURU: How close can the posts actually be to each other? Are there physical limitations to drilling two holes 12 inches apart? The reason I ask is I want to build a garage that mirrors the garage on my house, and the first 9 foot wide door is 25 inches from a corner and the spacing between the two doors is only 15 inches, rough opening to rough opening. Does one just dig a hole large enough for both posts? Or should two holes be drilled that overlap? SCOTT in BROOKSTON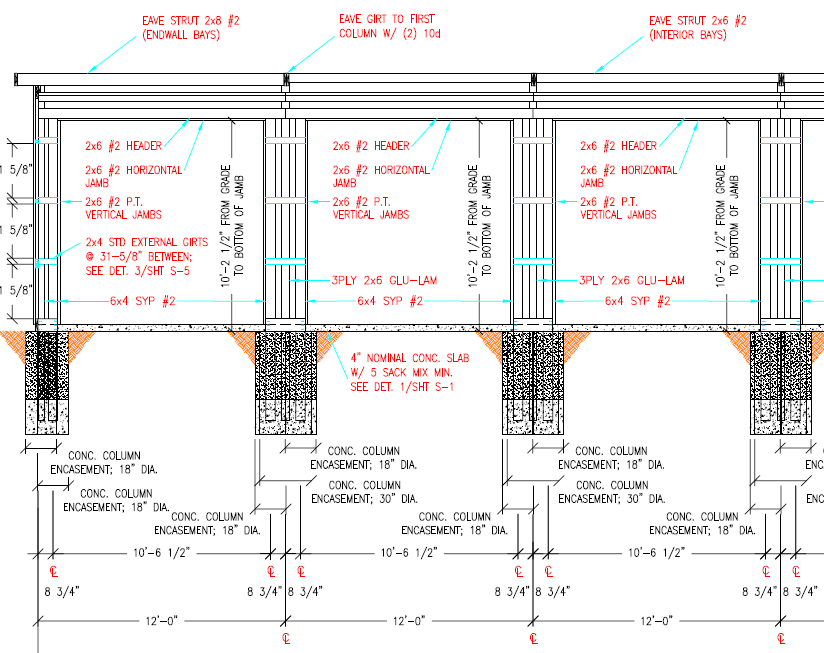 DEAR SCOTT: Two posts can actually be in direct contact with each other, if necessary to support things like door openings. When two columns are close together, it is usually easiest to end up digging what resembles a trench, rather than a larger diameter hole (effectively drilling two overlapping holes).