Today the Pole Barn Guru answers readers questions about condensation control in a small garage with a gravel floor, the possibility of adding a "mother-daughter" unit to her house, and "ribbed vapor barrier" for a shed roof.
DEAR POLE BARN GURU: Recently purchased a metal garage kit, 24X26. No insulation. Two garaged doors. Gravel floor with plastic under grave. I am getting condensation on some days, that makes my cars, etc have like a dew on them.
My rib looks to be 1" and 7" between ribs. How do you install a wall vent with the ribs? JODY in ALTON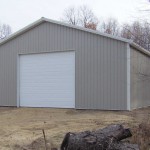 DEAR JODY: First step is to take care of your source. Pour a concrete slab on grade with a well sealed 10-15mil vapor barrier underneath. As you have no thermal break between your warm moist air inside building and roof steel, have two inches of closed cell spray foam insulation applied to underside of roofing. You would be better served to vent eaves and ridge, than just gable vents. If gable vents are your choice, look for vinyl vents with a snap ring as they can be installed on ribbed steel siding.
Using inward vent base edges as a guide, mark area to be cut on endwall steel INSIDE, make hole cut square with steel sheet (vertical cut lines parallel to steel ribs). Cut hole with appropriate tools.
Push vent base through hole in steel from inside.
Note word "TOP" on base when positioning. Vents installed with top side in any direction other than up will allow water to leak into building.
While holding vent base in place, snap face into base from steel exterior by pressing firmly (this takes two people).
DEAR POLE BARN GURU: I'm interested in building an attached mother/daughter addition to my home. Do you have plans for that? Approximately 600-700sq ft. NANCY in MONROE TOWNSHIP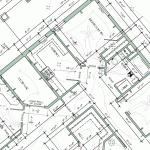 DEAR NANCY: Thank you for your interest in a new Hansen Pole Building. Every building we provide is custom designed to best meet the wants, needs and budget of our clients. We offer a floor plan design service for folks just like you: http://www.hansenpolebuildings.com/post-frame-floor-plans/?fbclid=IwAR2ta5IFSxrltv5eAyBVmg-JUsoPfy9hbWtP86svOTPfG1q5pGmfhA7yd5Q 
DEAR POLE BARN GURU: We are having a 50×30 all metal building. We were advised to get ribbed vapor barrier for roof. We have searched everywhere. Is it called something else? SHANNON in OLEAN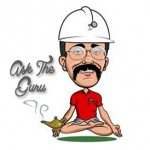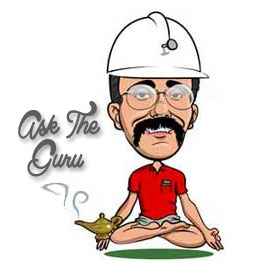 DEAR SHANNON: We are also not familiar with any product known as a "ribbed vapor barrier". We would normally recommend use of roof steel with an ICC factory attached (https://www.hansenpolebuildings.com/2020/09/integral-condensation-control-2/). If this is not an option (or if you are using closed cell spray foam directly to underside of roof steel), next choice would be a radiant reflective barrier – look for six foot wide rolls with an adhesive pull strip attached for ease of installation.