Today the Pole Barn Guru answers reader questions about adding on to an existing pole barn with use of 24″ oc trusses, covering old wooden sliding doors with steel, and advice regarding erecting an acquired Cuckler steel building.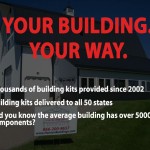 DEAR POLE BARN GURU: Trying to plan on a 36'x80'x12′ addition to an existing 30'x40'x10′ pole barn. This new barn will be insulated with an insulated ceiling and have a shingled roof to match my existing barn. Because I am not planning on a steel roof and instead, OSB sheeting and asphalt shingles and because I am needing an insulated ceiling I do not believe it makes sense to install double trusses at 12′ apart. I have no need for roof purlins and ceiling joists if I put single trusses at 24″ O.C. The material & labor costs to install purlins & ceiling joist must out-weigh the cost saving of having 4 less roof trusses per 12′ span. JOE in FENNVILLE
DEAR JOE: Thank you for your interest in a new Hansen Pole Building. We certainly can design your building with trusses placed two foot on center on top of truss carriers (headers) between columns. Your Building Designer will be reaching out to you shortly.
DEAR POLE BARN GURU: I have an old wood barn that I overlapped with metal. I completely redid the double sliding doors which are 6 feet wide by 12 feet tall. They are 2×4 wood frames that I plan to place metal on top of. I am having a very difficult time finding out how to trim the doors so none of the wood is exposed on the outside face. I have seen what is called F channel, but is it made to fit dimensional lumber as in 1.5 inches? JEFF in OWNESBORO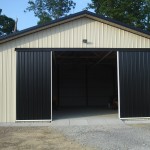 DEAR JEFF: I would have ditched lumber frames for prepainted metal frames and been done with it, plus metal will never twist and warp like wood and your door frame would be significantly lighter (not too late to regroup). Still not convinced? Any steel roofing and siding roll former can bend trim to match any dimensions, so you can have created exactly what you are looking for.
DEAR POLE BARN GURU: When we purchased our land, we acquired an old cuckler steel clearspan building we would like to erect as our garage. The steel is in great shape and will make an awesome garage with some work. All we have are the trusses, side beams and z purlins so I will be supplying new 2×10 roof joists, metal roofing and siding. I've got a hardware list put together with all new grade 8 bolts, some 1″, and I'm fine with assembly but we need some engineering plan to be able to get a building permit. How can we go about reverse engineer this enough to give us what we need to apply for a permit? Also the sidewalls on this building are 8′ and we are trying to figure out if we want to raise the sidewall, what is the best way to do that?
Building info: model C20 Rigid frame 40×60
We found an old Cuckler building guidebook. We have the building on page 12 and 13. (see attached) TAMI in STEAMBOAT SPRINGS
DEAR TAMI: Your attachment did not make it, but no worries. I am going to connect you with Hansen Pole Buildings' primary third party engineer – if it can be made to work, he can do it. I will caution you, Building Codes and accepted engineering practice have changed dramatically since this old Cuckler Building was designed. It is possible you own nothing more than a pile of recycling. Best of luck to you.