This week the Pole Barn Guru answers reader questions about column height for an eight foot one inch interior ceiling, what size bi-fold door for a hangar, and specific boards for a splash plank.
DEAR POLE BARN GURU: New at this. If I am building a pole barn house and want 8 ft 1 inch between slab and bottom of truss, have 4 inches of slab and 2 inches of Styro and need have top of footing at 42 inches, I come up with 145 inches. A 12 foot pole is 144. Can this work and pass code or do I need to go with a longer post.
Thanks for any help. BRADLEY in SHELBY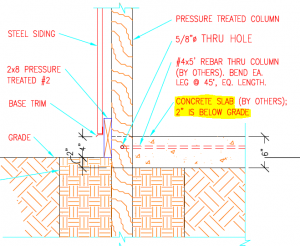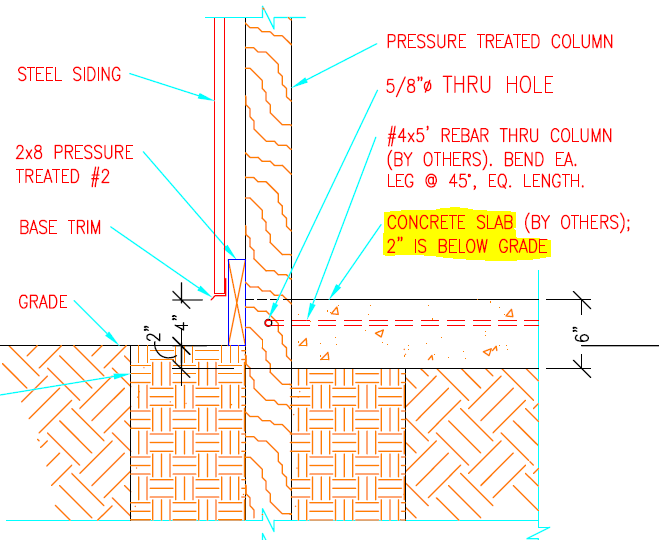 DEAR BRADLEY: My recommendation is for you to be building from a fully engineered set of building plans. When you are provided with a design frost depth from your Building Department, it is telling you the BOTTOM of the footing must be at or below the design frost depth.
If this was a Hansen Pole Building, our engineers would specify column holes to be 42″ deep from grade. The bottom 8″ of this hole would be filled with concrete (below the column) as part of a monopoured bottom collar. Your building footprint would be lowered two inches below grade to allow for your sub-slab insulation. Top of a nominal four inch slab will be at 3-1/2″ above grade. Normally height from top of slab to bottom of trusses to give an eight foot finished ceiling would be 8′ 1-1/8″. One thing you have not accounted for is raised heel trusses to allow for full insulation thickness from outside of wall to outside of wall. In your area we would recommend R-60 attic insulation, with 22 inch high raised heel trusses. Given this information, your columns should be 14′.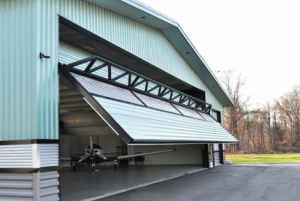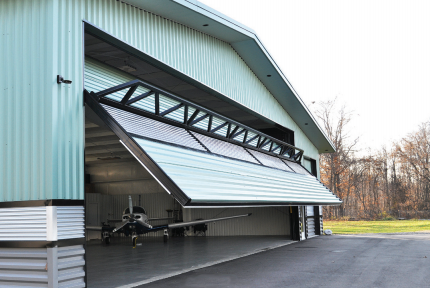 DEAR POLE BARN GURU: I am contemplating building a hangar, planning at this point on a 60 x 60 hangar, and wondering what the maximum opening span would be with a bi-fold door. Thanks! KEVIN in BELLAIRE
DEAR KEVIN: On each side of the hangar door your building will need what is known as a 'braced wall panel' of solid wall. The width of this area is limited to a maximum ratio of panel width to building eave height of 1:3.5 (as an example on a 14′ eave building would be 4′).
DEAR POLE BARN GURU: What boards do I use for outside band for first floor > 20ft by 40ft -6×6 posted 10 on center. JOSEPH in CLINTON
DEAR JOSEPH: First floors are at grade, so your 'outside band' would be called out for on your fully engineered building plans as being a pressure preservative treated splash plank of some dimension (in our case, with steel siding it will be a 2×8 treated to UC-4A or ground contact).