How Far Could a Wood Truss Span if a Wood Truss Could Span With Wood?

Yes I had a great deal of fun making this title fit, but it is Saturday afternoon and Saturdays are my relaxing day – I sleep in past 6:30, take my time getting to work (usually takes several hours on Saturday) to answer questions from potential clients, those currently building, or those who made a mistake and invested in someone else's building or are piecemealing and now need help.
(For my rant about piecemealers please read: https://www.hansenpolebuildings.com/2014/03/diy-pole-building/) This gets followed by 2-1/2 hours of workout – free weights, planks, crunches and four miles of treadmill, sauna and shower. Now it is time for work!
Reader NATHAN in IOWA writes:
"Are trusses with steeper pitches easier to make a longer span? And could Hansen do a 100ft truss (not picky about pitch) in north-eastern Iowa? Would also be sheathed with 5/8 OSB and standing seam roofing."
Steeper roof slopes can (to a certain extent) make wider wood roof trusses spans easier to accomplish. Another method (can be combined with slope) is increasing truss end heights – creating a raised heel. 
In reality very few people actually need to have clearspans over 80 feet. In 40 years and roughly 20,000 buildings I have provided all of three. These were a 100 foot span for a riding arena in Cowlitz County, Washington when I was a post frame building contractor; 92 foot trusses for my own prefabricated wood truss facility in Spokane 25 years ago; and some mid-80 foot span trusses for a Hansen Pole Buildings' riding arena.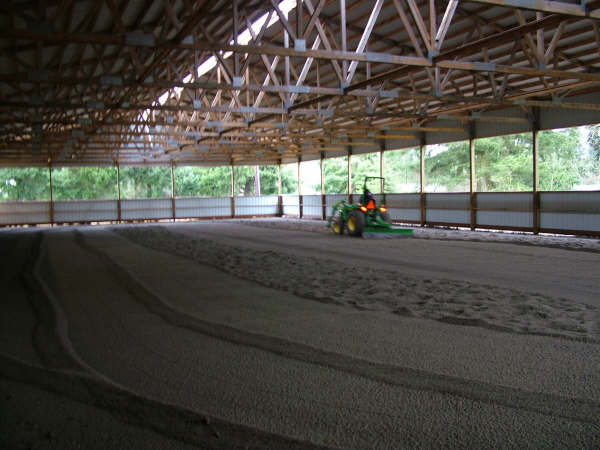 When I was last a truss fabricator, we had quoted 117 foot trusses for a proposed ice arena at Joe Albi stadium in north Spokane. With our plant's jig setup, we could easily have built 140 foot trusses however we could not have gotten them out of our yard!

With careful early morning measuring (to avoid traffic) we did determine we could just get a trailer load of them out of our gate, we then had only one right hand turn to make and it was straight across town from there! Everything looked rosy until funding fell through.

A consideration for any roof truss is most manufacturers cannot build and ship any truss of more than 12 feet of height, although there are some who can do 14 feet. When I was jack-of-all-trades at Coeur d'Alene Truss (late 1970's) we built and totally illegally delivered a set of 24 foot span 12/12 slope trusses with two foot overhangs (they were close to 17 feet tall).

Occasionally I see PEMB (pre-engineered Metal Building) or weld up steel building barndominium shoppers who shied away from post frame buildings with an idea we could not do what they felt were wide spans (36 and 40 foot does not feel wide to me) with wood roof trusses.

In answer to your question Nathan, Hansen Pole Buildings can supply your 100 foot clearspan building in north-eastern Iowa.