Today's Pole Barn Guru answers questions about the sale of overhead garage doors, the use of galvanized nails, and if Hansen could install a ceiling liner.
DEAR POLE BARN GURU: Do you sell overhead style panel doors for pole barns?  I am located in FL and need a 14'x14' barn door (possibly up to 6 total) for my large pole barn.   Do you know what wind requirements are typically used?  I realize Florida has a 160Mph wind rating due to hurricanes, but I am not sure if I am required to meet this requirement since this is a 25 year old pole barn  I am trying to renovate (& modernize) the look, but paying $4k per door would break the bank.
Any suggestions you have are greatly appreciated.
Thanks, DONALD in ORLANDO
DEAR DONALD: Hansen Pole Buildings provides overhead sectional steel doors only with an investment into a complete post frame building package, due to possibilities of shipping damage. You should consult with your local Building Department, as you may very well need a Building Permit in order to do work such as this. They can verify what wind speed (as well as wind exposure) will be appropriate for your particular building site. Even if a permit is not required, you should only use doors rated to at least these loads – lesser capacity doors may very well not perform as needed and indeed could result in a collapse.
DEAR POLE BARN GURU: After scouring the internet I am still confused about using non-galvanized steel nails in the MCA pt treated posts for nailing the girts. I thank you for your time and expertise. FRED in BYRDSTOWN
DEAR FRED: Regardless of whether lumber is pressure preservative treated or not, I have always used hot dipped galvanized nails – why? Because chances are good it will rain (or snow) during framing and non-galvanized nails will rust and leave discolored streaks on your framing. Considering there is such a small price difference, it is worth it to me.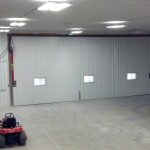 DEAR POLE BARN GURU: Hello! We live in Prior Lake and have a pole shed that needs a ceiling metal liner Installed. I'm having trouble finding anyone to do just the liner and I can finish the rest. I know you're a few hours away but curious if you have anyone near the cities that could help. The building is a 32×32 with a 12′ ceiling made by Sherman 5 years ago. It has three overhead garage doors.
Thank you, DEXTER in PRIOR LAKE
DEAR DEXTER: Thank you very much for considering Hansen Pole Buildings, unfortunately we are not building contractors, so this is outside of our scope. You might try running an ad in Craigslist under gigs or, as an alternative, check at your local The Home Depot's Pro Desk as they often have lists of contractors who might be capable of doing your work.