Today the Pole Barn Guru answers questions about adding a garage door wall to a hoop shed, ventilation with no sidewall overhangs, and how post frame buildings are "anchored" to the ground.
DEAR POLE BARN GURU: I would like to close the open 1/2 of the basketball court hoop shed with a pole building face.  I would like a large garage door in the center, fiberglass windows, and a door. Would you consider doing this project? JOHN in GILBERTSVILLE
DEAR JOHN: With no building behind to tie an endwall into, it would be structurally unrealistic and economically unaffordable to build what would essentially be a billboard in front of your hoop building. We would recommend tearing down the hoop building and replace it with a new post frame building which would be structurally sound and a permanent structure.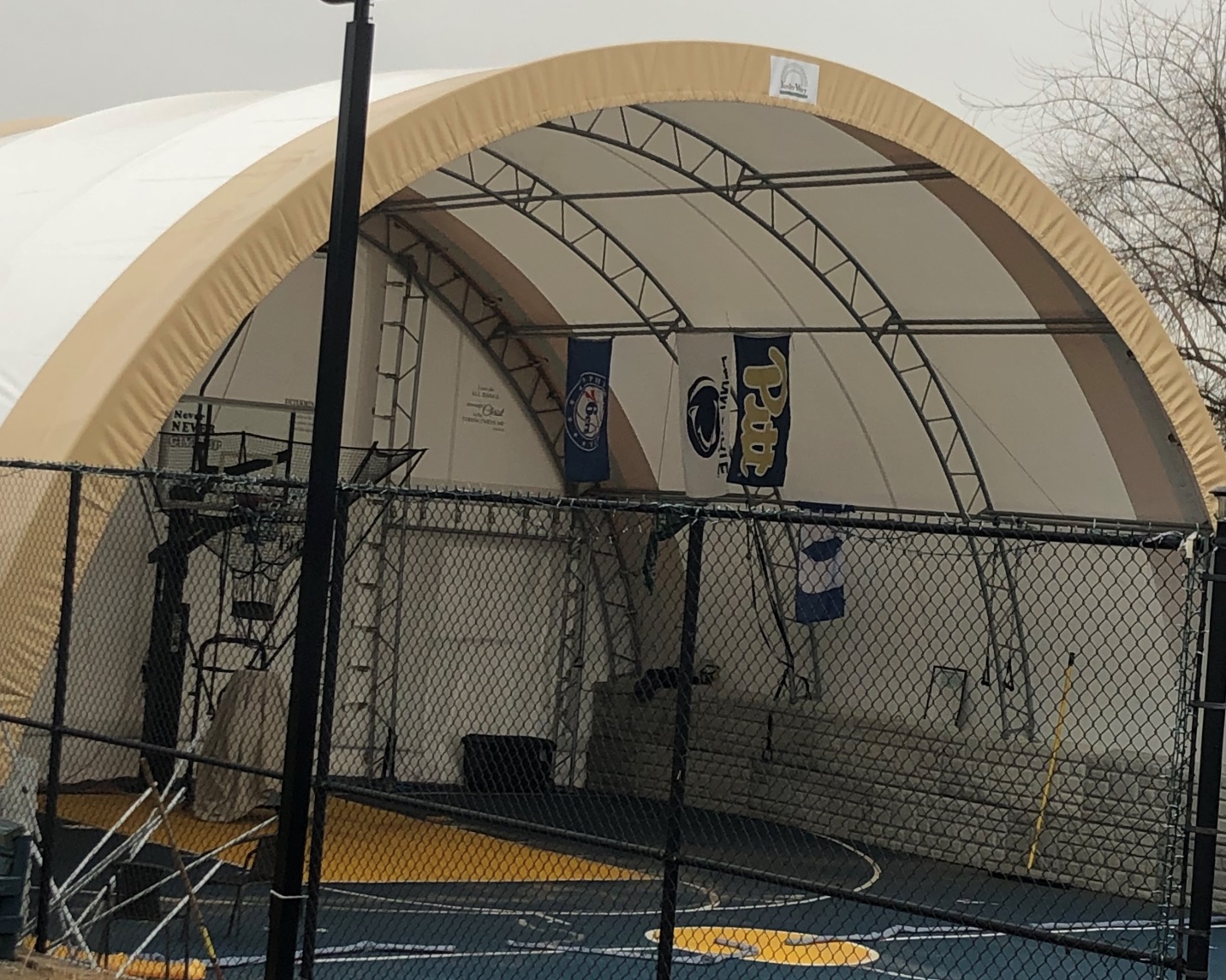 DEAR POLE BARN GURU: I have a 56×40 pole barn that I am working on lining and insulating. My question has to do with ventilation. There is no soffit. Does Hansen make an eave vent similar to their vinyl gable vents with the snap rings? They would need to be approx. 6 inches wide by 1 or 2 feet long. I would like to place something like that in between each truss (8ft centers) on the sidewall under the roof overhang. Or should I just do gable vents? We are installing a vented ridge cap. Thank You. DARRIN in ARKANSAW
DEAR DARRIN: Unless your trusses have raised heels deeper than whatever insulation thickness you intend to use plus vent height, adding vents at sidewall tops will not solve your ventilation issue. Ridge vents do not function well with gable vents as intakes, so I will make one of two suggestions –
If insulating at ceiling level, use gable vents only following this: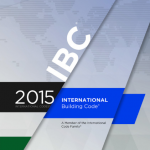 2015 IBC (International Building Code) ventilation requirements may be accessed here: https://codes.iccsafe.org/public/document/IBC2015/chapter-12-interior-environment please see 1203.2.
In areas closest to sidewalls, use closed cell spray foam insulation until you reach an area where full depth blown in fiberglass insulation can be used (20″ will provide recommended R-60 for your area).
Or – use no vents and closed cell spray foam underside of roofing and triangles of gable ends.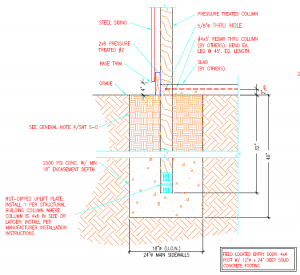 DEAR POLE BARN GURU: How is the plumbing in pole barn construction affected in an earthquake? I have heard that since the pole barn construction is not anchored down, it shifts during an earthquake causing all kinds of damage to the plumbing? CARLOS in SPRINGDALE
DEAR CARLOS: Pole barn (post frame) buildings are indeed anchored down – or least most should be. In our case engineers we utilize will specify a bottom collar of a minimum 18 inches diameter and 16 inches deep, at base of a 40 inch or deeper hole. Columns will be attached to a slab on grade, or restrained by an elevated wood floor, if over a crawl space. There should be no more damage to plumbing, due to an earthquake, for post frame construction, than there would be for any other form of construction.