Plywood Siding Z-Flashing
My first full time construction job was as an MEI (Momb Enterprises, Inc.) slave working for my framing contractor father and his brothers. 1970's found T1-11 plywood siding to be very popular (as were disco balls) and we installed plenty of it. Where walls were higher than available panels of T1-11, one panel would be installed above another, between each was a thin Z shaped piece of galvanized steel flashing, known appropriately as Z-flashing.
Today's writing has been spurred by reader GRIFFIN in LONGMONT who writes:
"Is there flashing between the horizontal joints of each T1-11 siding panel?  The inspectors are advising it's required."
Mike the Pole Barn Guru responds:
Because I so enjoy terminology such as "inspector said" I used internet power and Google to find a Building Code reference. Closest thing I could find would be this:
From 2015 IBC (International Building Code):
"1405.4 Flashing.
Flashing shall be installed in such a manner so as to prevent moisture from entering the wall or to redirect that moisture to the exterior."
Now common sense would tell me this joint would need to have some sort of flashing to prevent water infiltration in any case. And yes, Hansen Pole Buildings does include Z-flashing where needed for horizontal joints in plywood sidings.
There exists a technique for proper installation: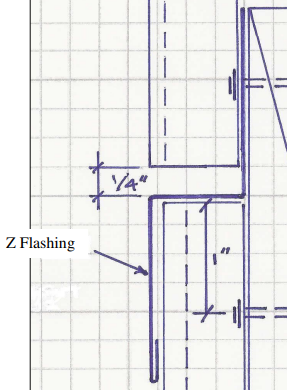 Galvanized Z-flashing, so-called because of its Z-shaped profile, keeps water from getting through horizontal joints between sheets of plywood siding. You set flashing upon top edge of each piece of plywood over a fat bead of caulk and hold it in place with just heads of roofing nails driven into sheathing. Don't nail through flashing itself or it will eventually leak. Overlap ends of flashing by two or more inches and run a bead of caulk between them. And just before upper plywood panel becomes placed, caulk along top edge of metal as extra protection against water.
While I personally recommend using roll formed steel siding due to its longevity and cost effectiveness, some folks feel plywood siding will be their ideal design solution. For those, we provide proper and appropriate Z-flashing.