DEAR POLE BARN GURU: Hi. I am an architect with a flood victim client in Houston whose 1500 sf house must be rebuilt 5′ above grade. C panel, aluminum sliding windows/doors, low budget. Is it crazy to think they could buy a custom kit from you and have a crew from MN install it in January when said crew needed a winter break ? Attached images are just place holders to show elevated frame. Thank you. STEPHANIE in SAN ANTONIO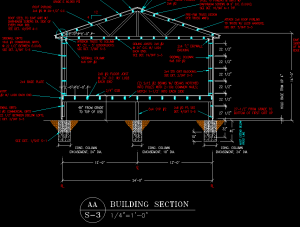 DEAR STEPHANIE: We can certainly get the house designed and delivered for your client, however we are not building contractors. Our buildings are simple enough so the average person who can and will read instructions in English can certainly erect the structural portions of their new home – and do a better job than the majority of building contractors.
With a high degree of certainty, you (or your client) could run an ad in Craigslist and get a builder from the great white north to travel to put the building up, if the client is not so inclined.
Vinyl windows are going to be about the same price as aluminum and will be far superior in performance. Our goal is to offer the best possible value for our client's investment, so it is very probable we will prove to be a good fit.
DEAR POLE BARN GURU: Hi there!
Mom and I have a existing metal pole barn with no foundation – just dirt. We need to convert it to a work room with a raised pier foundation inside a concrete "curb". So my question is, what do we use to insulate/separate the concrete from the side of the metal walls?
Thank you sooooo much! ANNIE and MOM in AUSTIN
Dear ANNIE and MOM: It sounds to me like your idea is to have an elevated wood floor inside your building. If this is the case, the floor can probably be constructed by the attachment of beams to the building columns and running joists in between them. The question will be what needs to be added to your building (if anything) to provide for structural adequacy.
As an alternative, you could pour concrete stem walls (curbs) between the sidewall columns and as needed inside the structure. This is going to entail far more expense as well as work. Stem walls along the perimeter should be able to be isolated from the wall steel by pouring against the pressure preservative treated skirt board (splash plank) at the base of the walls.
In either case, a Registered Design Professional (RDP – architect or engineer) should be hired to do a field analysis of your building to determine both the adequacy of your building as well as to design the solution for you.

DEAR POLE BARN GURU: How much does the platinum engineering package cost? DAN in VIRGINIA BEACH
DEAR DAN: The Hansen Pole Buildings Platinum Engineering Package includes adding elevation drawings (showing the siding) to the standard structural engineering package which is included with your investment in a new Hansen Pole Buildings complete post frame building kit. The extra investment is nominal and can be obtained for your specific building upon request to your Hansen Pole Buildings' Designer.