I personally have a great deal of fun working with the majority of our clients, most of whom are truly wonderful. The most rewarding part is when those who have done the work themselves share with us what I refer to as "post frame satisfaction".
This satisfaction is in part due to the new building helping to solve a problem and help goals to be reached (like a business opening or expanding).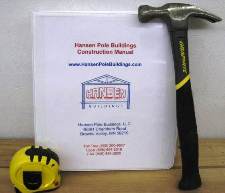 In my humble opinion, anyone who can and will read the English language can successfully construct their own post frame (pole) building and probably get a better finished building than they would have should they have hired a contractor to erect it.
Why?
Because those who do their own work care.
Not only is hard earned money involved in the project, but the time, effort, energy and sweat of the new building owner. I've constructed my own post frame buildings and own three of them currently – it is pretty heady to stand back when the building is finished and think it was created by one's own hands!
Don't take my word alone for it, in word and photos our friend Dan says it all:
"Hi Doug and Mike,
I started the process with Doug almost 2 years ago! Just wanted to show you the build process. Thanks for all of your help throughout the entire process. Really cool and proud to show it off. Loved dealing with you guys and would recommend you to anyone considering a DIY build. The building is going to get electrical run to it as that is the last thing to truly make it done! I did the entire process with the help of some friends and family. Truly proud of it! Thanks again!"
https://photos.google.com/share/AF1QipOlUo0ftzUw-dOLofIR_p5I39y_a_R_zQ8zeLYOxJzUeeiwQN6csECvBLc60A8rdQ?key=NVQxb0lhT3FzQWJGcXJpRzBxM0dBdUpYdWFBVVh3
My hope is you will take a few moments of your valuable time to admire Dan's handiwork!