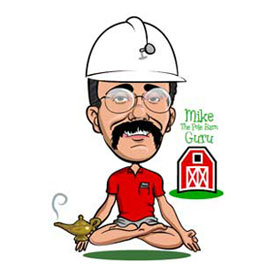 DEAR POLE BARN GURU: What is the average square foot price to build a typical pole barn with no concrete in WA State. How much is charged per opening (Door)? DON IN LONGVIEW
DEAR DON: Back when I was building pole barns, we first had a very complex formula for determining labor. As square footage increased, price per square foot went down, as height increased price per square foot went up. Then there were additions for every possible option from overhead door openings, entry doors, overhangs, insulation, on and on.
In the end, we found the results from the complex formula worked out to be right around 50% of the price paid for the building kit every time. So we went the easy route and used one-half of the materials price – it was so much quicker and far less confusing for everyone involved.
You may find this article of interest:  https://www.hansenpolebuildings.com/2014/03/contractor-costs/
DEAR POLE BARN GURU: If i were consider to purchase a Garage Kit from Hansen Buildings, does the kit include shipment and do you ship to Southern Maryland. JIM IN HUNTINGTOWN
DEAR JIM: The prices quoted on our buildings include delivery to any location in the continental United States, other than any ferry charges which will be added as incurred as they are based upon the length and/or weight of the delivery truck(s).
We'd be more than pleased to ship to you in Southern Maryland!
DEAR POLE BARN GURU: Hello,
I am altering/repairing my existing pole barn. I plan to do the work myself and I will be purchasing the materials from a local lumber yard. The work includes new trusses and raising the roof 3′-0″. In order to raise the roof we will need to add 3′-0″ to the tops of the existing 6×6 wood posts cast into the concrete (so we will need an engineered detail for that).
The city is requiring that my design by approved by an engineer. Are you able to provide engineered plans that I could follow? I am only in search of engineered plans.
Thank you, JAMES IN WYOMING
DEAR JAMES: Thank you very much for your interest.
Your city is absolutely right in their request for engineered plans, I commend them for this.
There is a distinct possibility what you are attempting to do will not engineer out. My best advice would be to take the original engineered plans to a local registered design professional (architect or engineer) who can physically inspect your building, to ascertain if it was built to the original engineering, as well as to make determinations as to if what you propose to do is even feasible.
This is a short list of items which might pose a challenge (feel free to share with your engineer):
Existing structure not adequate to meet current codes – if it was built prior to the "I" codes, the wall girts are most probably not adequate to keep deflection within limits. If so, add more wall girts to reduce spacing, or add another member to girts to make them into T or L girts.
Footings under columns probably inadequate in thickness and diameter
A splice in the columns, basically negates most of their strength. A full length "scab" splice along each side very well might be the only solution. Keep in mind the limiting Fb in bending will be of the weakest member (the column).
Endwall steel should be full length (unspliced) in order to adequately transfer shear loads.