Where the Idea of Colored Steel Siding and Roofing Started
Back in the Stone Ages, when I first entered the post frame (pole building) industry, factory pre-painted steel siding was still in a relative infancy. So much so as most steel roofs were yet still bare galvanized! It was a rarity to have a colored steel roof!
Colors were relatively limited (red, white, blue, green, gold, beige and brown) and the paint was not the greatest. Read about polyester paint here: https://www.hansenpolebuildings.com/2014/05/polyester-paint/), but they were colors and the world was overjoyed!!
But where did the idea of painted steel come from?
As the late, great Paul Harvey would have said, now here is …. the rest of the story….
Henry Getz began his career working at his father's company, Interlocking Fence Company of Morton, Illinois. Interlocking Fence Company started as a mail-order farm supply company providing fencing and other items needed by farm families. The company later offered a Quonset-style building with a laminated arched rib covered with galvanized sheeting. Seeing the potential in another style of building, Getz began moving the company into post-frame construction.
From the start, Henry constantly sought the "something extra" to offer customers, and in the early 1950s he introduced one of his most important innovations: the addition of color to otherwise plain galvanized sheet-metal buildings.
Though he was told farmers would never pay more for color, Henry pressed ahead. The first color introduced was stained red and incorporated into the gable trim. Soon after, the company added the option of using colored trims for sliding doors, beginning with red trim and track.
As post-frame construction gained popularity, the Quonset-style building was discontinued, and Henry and Interlocking Fence Company began constructing the post-frame structures familiar today.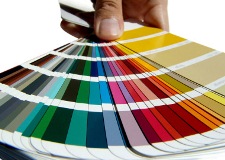 Believing color was spurring the industry's growth and offered an opportunity to expand into the commercial building market, Henry sought out builders interested in transitioning to a painted steel panel. The assembly of a like-minded group was part of an effort to decrease the cost for all involved parties. Although this effort was ultimately unsuccessful, Henry persevered and began offering painted steel panels himself. His advertising at the time strikingly compared a building without color on the roof to a mannequin without hair!
Some astute readers may have made the connection between Henry Getz and Morton, IL. For those who didn't – think "Morton Buildings" and you will have it!
When I consider the tens of thousands of building projects I have had the privilege of working on, I have to doff my hat to Henry Getz for the insight in starting what has become a beautiful palette of colors!