If you're like most folks, the idea of having a custom designed pole building strikes you as some hoity-toity fantasy where you're a movie star or a high-priced lawyer. After all, why do you need a custom-designed building if you're just a regular guy or gal? And how can you possibly hope to afford it?
Well, it turns out that there are quite a few myths out there when it comes to custom-designed buildings, and there are some truly good practical reasons why you should think about getting one!
Myth: It's really inconvenient to spend the time getting a custom design.
Truth: What's inconvenient is dealing with 20 different standard building providers.
Working back-and-forth with a true Building Designer, having to provide all of the information about what your new pole building will be used for not only today, but in the future and waiting on pricing while dimensions and features get tweaked sounds like the height of inconvenience, but think about what you'd do otherwise. Off-the-rack pole buildings are all in generic sizes and features, so chances are good you'd end up looking at a lot of them and probably even driving around to different suppliers and contractors before you find something which seems acceptable – not even great; just acceptable. This kind of shopping takes a lot of time and gas, and all it really gives you in return is frustration. Having a tailor made pole building may not allow you to just order it the day you start shopping, but the actual time you spend shopping is often much less.
Myth: The level of quality is about the same.
Truth: Custom-designed pole buildings really are made better.
It's not that "off-the-rack" pole barns are the equivalent of blue plastic tarps and custom-made post frame buildings are the Taj Mahal, but there is definitely a difference in the level of quality between the two. Part of this comes from the fact standard "cookie cutter" pole barn kits don't take real live and knowledgeable people to figure them out – they are akin to being put together by machines on an assembly line, whereas each custom-designed post frame building will be overseen by a team of real live and skilled people. There's just an attention-to-detail there which can't be matched. Also, when you're having something custom-made, you can choose the materials which are going to be used. Even the basic materials offered by custom designers tends to be far better than what's offered by those whose buildings are "one-size-fits no one", and you can pick features and materials which are amazing.
Myth: A standard building kit works just fine.
Truth: Because you've never tried a custom-designed building.
For a custom building designer, "just fine" is a failure. When you get a custom-designed post frame building, you're investing in a building which meets your needs exactly. The dimensions and features which fit you, your needs, your activities and your belongings –  exactly.  Need 33 feet wide but the "standard" kit packages only come in 30 or 36 feet? Maybe, just maybe, the standard folks will sell you a 33 foot wide building, and charge you for 36 feet! Not quite the bargain you may have expected.
Myth: Tailor-made pole building kits cost an arm and a leg.
Truth: Many people come to us to spend less.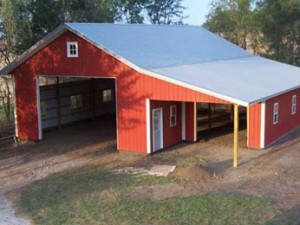 Let's be completely blunt: no post frame building company is going to be able to provide you a custom-designed building which is less than the lowest off-the-shelf standard prices you can find. There's a reason big businesses use assembly lines, and someone who's personalizing every building can't match it. At the same time, custom designed pole barns are quite affordable when you start to look at the big picture. First off, it comes back to convenience. Your time is valuable, and if you can go to one custom design building company with your wants, needs and goals and get a great building out of it, chances are good you'll save a lot of time over trying to find an standard pole barn kit which sort of  works. Additionally, due to the attention to detail, custom design post frame buildings last longer and require far less maintenance, which means you save money, time and frustration over the long haul. And, the right custom pole building designer can replicate looks on popular (read: expensive) brands for far less than what you'd pay just to get a particular name on the gable end sign.
Myth: Custom pole building designers just charge more for the same thing.
Truth: Custom-made pole barns can be personalized in any number of ways.
Try to buy a standard pole building kit and you're going to be limited to a few specific sizes and styles which make the most money for the company selling them. Tailor-made pole barns offer unlimited personalization. All you have to do is tell your Building Designer what you'd like to do and they'll let you know the cost and time involved. Plus, you may very well be offered options which you otherwise never would have considered.
If you don't want to believe what I've written above, simply find a man who owns a custom Hansen Pole Building and ask him what he thinks. You'll find out once you go custom, you'll never regret your decision!