X-treme Custom Hangar Doors
Plattekill, New York is just a short drive north from New York City. Nestled in the trees along the highway is a unique airport, as it is home to aviators who build and fly experimental or otherwise unique aircraft.
My first experience with the pilots who, for the most part, reside at the airport most weekends, was when two of them (Jon and Mike) purchased identical hangars from Hansen Pole Buildings about ten years ago.
Both of the hangars were designed with an open endwall for plane access. It was after the buildings were erected which saw creativity come into play in the form of the X-treme Custom Hangar Door.
X-treme Custom Hangar Doors are manufactured by M.H.Balogh, Inc. of Newburg, New York. Mike Balogh has designed an interesting solution to the airplane hangar door dilemma.
All of Mike's doors are custom-built to the dimensions of the building owner's opening. The doors can be covered to compliment the buildings with steel, polycarbonate, or wood (the covering for the doors are provided by Hansen Buildings, along with the pole building kit package).
The doors are easily assembled by one person, with a ladder. These are manual bi-fold doors which are easy to open and close without electricity.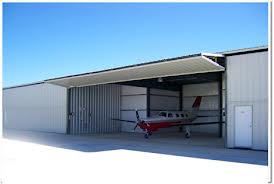 The framework is made from 1-1/2" 14-gauge square steel tubing. The doors have two double 1-1/4" ball bearings on the outer doors (top and bottom). Cross –braces (as an X-frame) are included as well as eight lock pins (four top and four bottom) for added strength. Dual castors are an optional feature.
The door components are easily shippable to anywhere in the world, and these hangar doors may be an affordable solution for not only hangars, but other applications where building owners are looking for a more unique design solution for a door on a large opening.
Some cautionary notes – in snow country, prompt removal of snow will add to the easy of opening, as the bi-fold out doors will not clear buildups of ice or snow. Also, while strong, these hangar doors do not come with Building Code wind load approvals, so any buildings which will utilize them should probably be best engineer designed as "partially enclosed