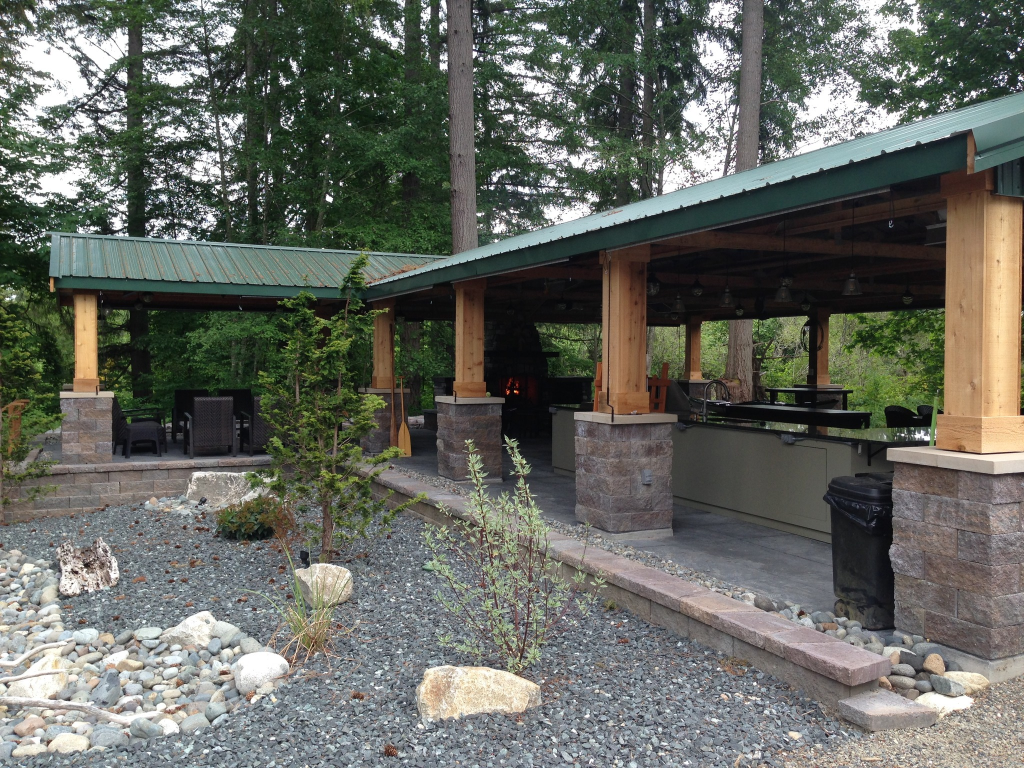 If you need a structure that provides shade for your backyard, whether as a carport, for lounging under by the pool, or to help create a cozy spot to sit under on a cool evening with a firepit, consider investing in a ramada pole building. Using a ramada building kit is a cost-effective way to create shade or shelter or extend your outdoor living space.
Get A Free Quote!
What Is a Ramada?
A ramada structure is a building with a fully enclosed roof open on at least one or two sides. A ramada can be free-standing or built into an existing wall of your home as an open-room, shady extension of your home. If you're considering having an outdoor kitchen with a wet bar that has open spaces for views and airflow yet with an enclosed roof, a backyard ramada is an ideal solution.
You may ask, is a ramada the same thing as a pergola? The answer is no. A pergola is a free-standing structure that has a flat roof with slats to let light into the area below the roofline. Unlike a ramada shelter, which has a solid roof, the roof of a pergola is not fully enclosed, so rain can come through.
Introduction to Hansen Pole Buildings Ramada Offerings
At Hansen Pole Buildings, we offer floor plans and ramada building kits perfect for carports, picnic or pavilion shelters, horse or animal corrals, poolside shade, hay barn covers, or covers for agricultural equipment. We supply floor plans, building kits, step-by-step assembly instructions, and customer support to help you with your ramada project.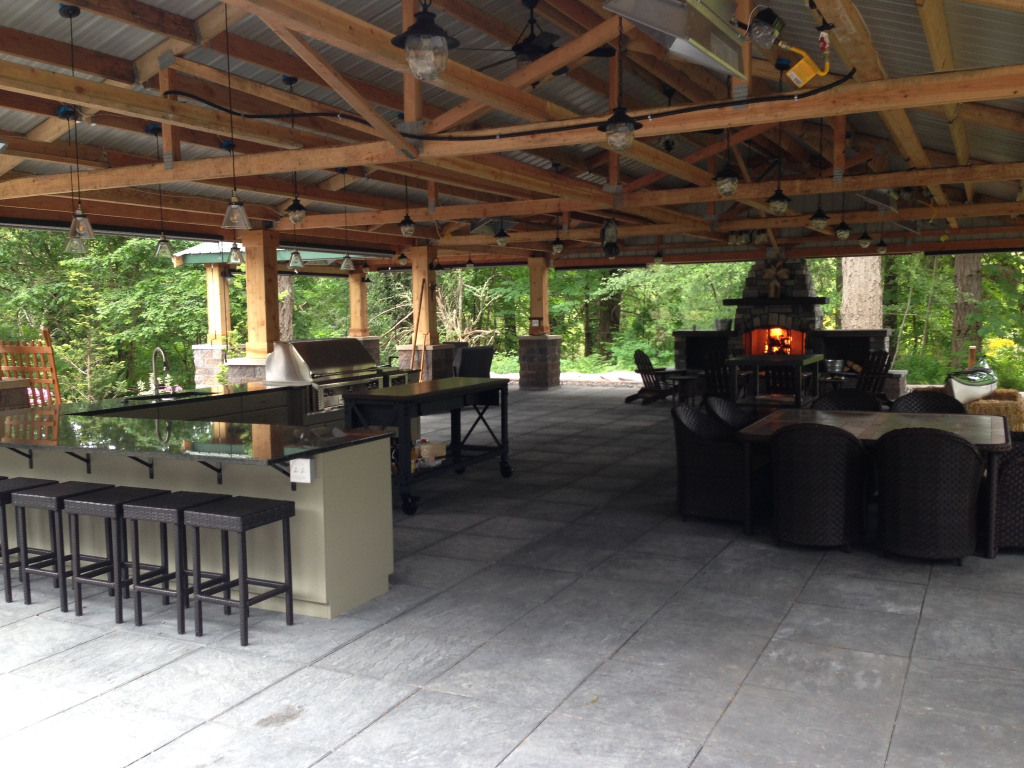 How Much Does It Cost To Build a Ramada?
Depending on the size, building materials, and slope or foundation considerations, expect to pay between $7,000 and $18,000 to build a ramada. To get the most accurate estimation or quote for your ramada, contact our team at Hansen Pole Builders so we can help you with the best ramada kit for your budget and shelter needs.
Get A Free Quote!
What To Consider When Designing a Ramada

Use, location, style, and materials are the four primary factors to consider when designing a ramada. Think about how you plan to use your ramada. Do you want a luxury ramada for your upscale outdoor kitchen or a rustic-style one for your hay barn?
Now that you know the type of ramada you want, you'll need to figure out a location for it. Once you've decided on the location, you'll need to create a level surface. This process can be as simple as raking a flat surface or an extensive project complete with excavation equipment. In addition, you'll need to decide how you want the area around the ramada landscaped so you can prepare the soil and site for the designed landscaping.
Ramadas can come in various styles, and you can design the structure to be free-standing, attached to an existing building, and have no walls or partial walls. You'll need columns or pillars for support. You'll also need to consider whether you'd like a tile, wood, or slate roof. If you're unsure what style and materials to use, our team at Hansen Pole Buildings can help you with your decision.
How Do Wooden Ramadas Differ From Steel Frame Buildings?
Steel is more costly than wood, so building a steel ramada will be more expensive. Generally, builders use steel for tall and large structures that require large spans with heavy roofs. In addition, a steel frame building needs special machinery to lift the heavy columns and requires large concrete footings to hold the weight of the steel. A wooden ramada uses pressure-treated posts for its main structural support, making them affordable and easier to construct than steel frame buildings. Buying one of our ramada building kits saves you money on building materials and equipment.
What Are the Advantages and Disadvantages of Ramada Building Kits?
Ramada building kits from Hansen Pole Buildings have many advantages, including low costs and ease of construction.
Ramada Building Kit Advantages
Customization
Ramada building kits allow for any customization you need. Do you want a small ramada for an intimate seating area or a large one for your outdoor kitchen and entertainment area? Are you interested in a free-standing backyard ramada with no walls or an attached ramada with one or two walls for protection or privacy? Hansen Pole Buildings' ramada building kits allow you to use your creativity to design the ramada kit of your dreams.
Value
Ramadas use minimal materials, making them affordable and value-oriented. With easy-to-read, step-by-step instructions, it's a breeze for you, the homeowner, to assemble the ramada from our building kits. If you choose to DIY, you'll save money by not having to hire a contractor, and you'll also have the confidence to build other pole buildings from any of our building kits.
Strength and Protection
Having a solid roof on your ramada, as opposed to a pergola-type roof with slats, gives the structure extra strength and protection from the sun, wind, and rain. We use pressure-treated wood to help prevent damage from insects, pests, and rot. We also use affordable, high-quality materials to make your ramada durable and long-lasting.
Ramada Building Kit Disadvantages
While the advantages of a ramada building kit outweigh the disadvantages, you'll want to consider the following.
Building Codes and Permits
Even though most ramadas have a small footprint, you'll want to see what building codes, rules, and regulations your county or city requires. A building contractor can help you understand the rules specific to your area and even help you get a permit. If you don't have the time or tools needed to build the ramada, consider hiring a contractor.
How Long Does It Take To Build a Ramada?
The time varies for the size and style of the ramada and how much time you have to devote to building the structure. When you buy a ramada building kit, our team will give you an estimate of how long it may take to build based on your requirements, the size, the design, and any add-ons you order.
How Do I Find a Ramada Builder Near Me?
If you'd like help building your ramada, you should be able to find a contractor skilled in these types of structures to help you assemble and build your ramada kit. If you're unsure whom to hire to help you with this project, our team at Hansen Pole Buildings can help you connect with someone in your area. Keep in mind that we can help you connect with a contractor, but they will not be affiliated with or an employee of Hansen Pole Buildings.
About Hansen Pole Buildings
Hansen Pole Buildings offers consumers premium, affordable post-frame building kits ranging from ramadas to elegant barn-style homes. Our professional designers can create custom floor plans for your dream pole building, and if needed, our finance team will work with you to help you get started on your post-frame building as soon as possible.
Get A Free Quote!