Does my building need a foundation?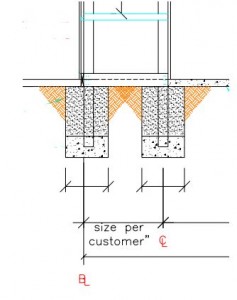 Yes – every building needs a foundation of some sort to resist settling and uplift forces. A pressure-treated column embedded into concrete back filled holes in the ground typically become the foundation for a pole building. Other foundation designs are available depending on the individual need of each client ranging to slab on grade with brackets, perma column, sonotubes and bracket foundation options.
Should I have my concrete slab poured first?
No. Reason being, once the poles are set and skirt board is placed around the perimeter of the poles this will actually become your form for any concrete poured in your new building. There are brackets that we can provide to construct a building kit on an already existing slab should that be your case.
Can I pour a concrete slab in the building after the construction is completed?
Yes! This is the best time to pour it. Hansen Pole Buildings uses a 2 x 8 pressure-treated skirt board around the base of the building. This will become the form for pouring a concrete slab. The bottom of the skirt board will be even with the bottom of your concrete floor. Concrete can normally be poured through the large door opening. If the concrete contractor requires additional access to pour the concrete, some wall metal can be left off until after the concrete is poured. It is also recommended to construct your building soon after poles are set to prevent possibly warping and twisting of set poles.
What if I have an existing foundation or slab and want to use it for the building?
In most cases it is easiest and cheapest to cut holes in or through your existing concrete so the posts can be embedded in the soil. Should you not want to do this, your pole building can be mounted to the existing concrete, providing your building inspector determines your concrete is adequate to support the loads. This will require an inspection by the building inspector and may also require hiring an engineer to make an adequate determination. All of these steps take money.
What slab thickness do you recommend?
The quality and strength of a concrete floor is more a function of the fill placed beneath it. For most uses if a site is well drained and has good compacted fill, a nominal four-inch thick slab will be more than sufficient.
What about concrete "cookies"?
Not only do they not taste nearly as good as the ones Grandma used to make, but they are also not required in our building design. A concrete "cookie" is a pre-cast chunk of concrete 4 to 6 inches thick and 12 to 16 inches in diameter. They are thrown into the bottom of holes and the building columns are placed atop them. These are primarily used in design with total gravel, sand or soil backfill around the columns and in all but the smallest spans and lowest loading conditions, are of inadequate size to distribute the weight of the building, when loaded, to the soil, without settlement.
Do you furnish concrete and rebar?
Due to the logistics (and weight) of shipping, we do not furnish any cement, concrete, rebar, wire mesh or any other materials which would be used to backfill your building columns or to construct a concrete floor, foundation or curb.
For more great information regarding pole building foundations, pouring concrete slabs and building design visit the Pole Barn Guru Blog.