Pole barns present an extremely versatile option for many homebuyers and land buyers who are seeking a simple way to add buildings to their lots. Whether you're interested in building a garage, workspace, barn, or home, you may find that this distinctive style of affordable construction is just what you're looking for. Here are some of the pros and cons of building a pole barn home or a pole barn for another purpose.
Pro: Simple Construction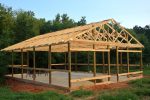 Pole barns feature simple construction layouts that generally allow for very fast completion. They need minimal labor, allowing many families to take a DIY approach to the build. We offer pole barn kits that allow you to do the building yourself. Though the basic design for a pole barn is very simple, there are still opportunities for customization in regard to the size, material, windows, doors, interior walls, and other details.
Con: Design Constraints
While pole barns do allow for customization, they still have some constraints. If you're considering a pole barn home, or "barndominium," as an alternative to traditional home construction, you'll find that you can't incorporate features like dormers or pitched gable ends. However, if you're a land buyer simply looking to construct a garage or workspace, you will likely find that a pole barn is as efficient as most other options.
Pro: Versatility
Pole barns can serve many different purposes. You might outfit a pole barn to serve as a convenient workspace, comfortable barn, or added storage. The simple design makes pole barns ideal for workshops, hobby buildings, and garages. If you're willing to invest the time and effort into interior elements, you can go even further and turn your pole barn into a home. Pole barn homes are ideal for families who want an open floor plan and large gathering spaces. Both home buyers and land buyers can find ample uses for this type of building.
Con: Zoning Restrictions
Depending on the area, you may face some restrictions in regard to pole barn construction. Neighborhoods in particular may not allow the use of a pole barn as a residential home. If there's already an existing home on the lot, you will typically find that you cannot construct a pole barn as a second dwelling, since most lots are limited to just one residential building. You will need to consult with the local zoning board and other regulatory parties to determine if and how you can use a pole barn on your property.
Pro: Affordability
Pole barns offer an affordable way to construct a new building on any property, whether you're a land buyer looking to create a simple storage space or a homebuyer hoping to construct an affordable house from the ground up. The cost of a pole barn typically ranges from $7,000 to $75,000 depending on the size and complexity of the project. 
Steel buildings are a more expensive alternative when building simple structures. While a small pole barn may cost around $12 per square foot, a steel building will run closer to $20 per square foot. Meanwhile, constructing a new home costs between $100 and $155 per square foot. 
Con: Mortgage Challenges
Appraisers often struggle to properly assess the value of a pole barn. If you're hoping to take out a mortgage on this type of project and use the pole barn as your primary residence, you may have some real hurdles to leap. Lenders like Fannie Mae and Freddie Mac will not provide a mortgage for anything lacking a concrete footing. These lenders also require that at least 50% of the building serves as living space, which may present a difficulty if you want it to serve dual purposes with the majority acting as a garage or workspace.
If you're interested in learning more about the cost, complexity, and customization of pole barns, contact Hansen Pole Buildings. We can help you explore the topic further and decide whether a pole barn is the right fit for your needs.
Get A Free Quote!