Pole barn homes are a popular choice for people who need an affordable home quickly. One of the reasons that these types of homes are increasing in popularity is because of the numerous designs available. If you're interested in pole barn home designs, here are some of the more popular styles to help you get started.
What Is a Pole Barn Home?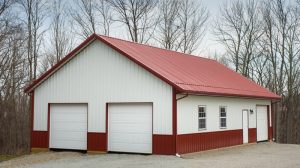 A pole barn home is a home that looks like a traditionally built home but is much simpler and more affordable to construct. With a pole barn home kit, all of the supplies you need come in a kit, allowing anyone to easily assemble their new home. Best of all, even though these homes are easy and affordable to assemble, this doesn't mean they lack style.
Popular Pole Barn Home Styles
There are many options when it comes to home styles for pole barn home kits. Below are a few of the more popular options for you to consider, with pictures available in our gallery:
Modern Style
If you're looking for a simple, yet modern-looking, pole barn home, then we have a great option available. This home features two sloped roofs at different angles, giving the home a more modern look. The outside has charcoal siding, helping to protect the home and regulate the temperature, all while looking great. There are also many windows throughout this home design, helping to provide natural light all over the house.
Classic Red Barn Style
Another popular choice is the classic red barn design. This is a two-story home that comes in the classic red you've come to associate with barns. With this pole barn home kit, you'll get an insulated roof and a large interior loft space. The roofing comes in a charcoal color and the entire home has a bright white trim, helping those red colors to really pop. Finally, this home features a garage door if you're looking for a space to park your car or truck.
Large Rustic Style
Finally, if you're looking for something a little bigger, try our rustic-looking pole barn house project. This home features siding in a wooden design, leading to a more rustic appearance of the home. It also has a slate trim, along with its slate roofing. Some other features of this home include a large overhead door, an overhang over the entryway door, and sliding windows throughout the home. If you want a home with plenty of garage space that looks great right out of the kit, look no further than this model.
Choosing a Pole Barn Home Style
There are many pole barn home styles to choose from. When trying to decide which is right for you, there are a few things you should think about. First, think about how much space you need. Since home kits come in all different sizes, you'll want to choose one that provides you with enough space for your needs. 
After that, you can start to think about what sort of features you want with your home. For example, some people may want more garage space while others may need more living space. Finally, you can think about what sort of colors and design you want on the exterior. Just because you're building a simple home doesn't mean it can't look great.
Start Your Pole Barn Project Today
If you're interested in getting a pole barn home kit, our team is here to help. We can help you select a kit that's right for your needs and that fits the style you're looking for. Our online tools make it easy to get started so that you can receive your home kit before you know it. Get started today by contacting us for a free quote on a pole barn home kit.
Get A Free Quote!