Pole barn homes, popularly known as barndominiums, combine the quick and easy construction of a barn with the homey utility of a condo. This unique type of home offers a wealth of benefits and intriguing design options, but it may not suit every family. If you're asking yourself, "Should I build a barndominium?" here are some follow-up questions to help you find the answer.
What Layout Are You Looking For?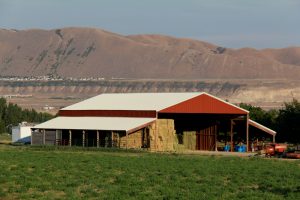 Pole barn homes typically feature an open layout with lots of large spaces that cater to multiple uses. The kitchen, dining room, and living area usually flow seamlessly into one another with few, if any, dividing walls. If you want to set off a particular area, a standing screen is an easier option in a pole barn home because it provides ample flexibility while keeping your construction costs low.
If you like the idea of large gathering spaces where you can drift easily from the kitchen counter to the couch, you'll appreciate the flow of a pole barn home. While you can add more walls as needed, keep in mind that pole barn homes have a simple rectangular shape. This creates some confines if you're after an architecturally complex layout, but it can offer extreme ease of use for most other situations.
Where Are You Building?
Barndominium pole barn homes have traditionally been used on large rural properties. Some neighborhoods have rules and restrictions regarding the type and style of home you can build, especially if the area has a homeowners' association (HOA). You will need to check with the area's local building official before you start planning your home construction.
Many lots are zoned for only one residential structure, which means that while you can build a pole barn beside your house for use as a garage or stable, you could not use the same building as a home. You may also encounter zoning restrictions pertaining to the frontage, setbacks, landscaping, parking requirements, and more. Learn more about the requirements for your locality to determine if a pole barn home is allowed.
Who Will Live in Your Home?
Consider how many people will live in your barndominium and what kind of space your family needs to feel comfortable. Pole barns come in many different sizes, ranging from a small barn that measures just 24 feet by 24 feet by 8 feet to a large barn spanning 60 feet by 120 feet by 16 feet. If you need something more spacious than the large pole barn dimensions, you may need to pursue a different method of construction.
As mentioned previously, pole barn homes usually have an open layout. This is ideal for families who want big spaces to gather together for dinners, game nights, and movies. You can even carry this concept through to the bedrooms and simplify construction with fewer bedrooms and more children sharing each space. Review some barndominium floor plans to assess whether this type of layout will suit your family.
What's Your Budget and Timeline?
Constructing a pole barn home usually takes much less time than building a traditional home due to its simplicity. In fact, many people approach their barndominiums as DIY projects. You may find that you can even live in the space comfortably while you're finishing it out, shortening your timeline further.
Pole barn homes are invariably cheaper than traditional homes. A small pole barn home may cost as little as $7,000 to $18,000. A midsize pole barn will usually fall between $18,200 and $39,100, while a large pole barn costs between $36,000 and $88,000. Compare this to the average cost of constructing a conventional home, which is around $284,000, and you can see that barndominiums are ideal for a family on a budget.
If you're interested in building a pole barn home for your family, we can help. Hansen Pole Buildings offers a wide range of pole barns that you can customize to make your own home sweet home.
Get A Free Quote!