If you're looking for a simple and affordable way to build a new home, you may want to consider a pole barn. Why a pole barn house? This type of unique home construction is often quicker, cheaper, and simpler than more conventional options. Here are some important things to consider.
Funding for Your Pole Barn Home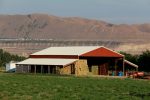 Pole barns are typically much cheaper than traditional homes. While the average home price is $348,000 in the United States as of 2022, even a large pole barn will usually top out at around $88,000. You can get a small pole barn kit for as little as $7,000 if you're looking to construct a tiny home for a single person or minimalist couple. 
Zoning Rules and Restrictions
You must consult with your local zoning board to determine whether you can build a pole barn as a residential structure on your lot. You may find that there are restrictions on size, height, distance from other buildings, and more. Make sure you check all the local rules and regulations before you commit yourself to the project.
Surrounding Landscape
A pole barn relies on large posts placed deep into the ground for its support, which means you need a level lot to work on. If you need to have the land leveled artificially, this will add to the cost of the project. You should also consider things like surrounding slopes. Pole barns are susceptible to water damage. If you're at the foot of a hill, think about drainage issues. 
Ease of Access
Consider how you'll access the area allotted for your pole barn. During the construction phase, you may need to get heavy equipment and contractors to the location. Trees and power lines may present tricky obstructions for builders. You must also consider your access to utilities like power, gas, sewer, and water.
Square Footage
Once you've determined that you have adequate funds and an appropriate lot for your pole barn home, you'll need to decide how big the building will be. We offer pole barn kits for homes as small as 24 x 24 x 8 or as large as 60 x 120 x 16. Are you planning to use some of the space for a garage, workshop, or stable? Think of all the functions that the building will serve and make sure you have adequate room for all your needs.
Floor Plan
You have a great deal of flexibility when it comes to the interior of your pole barn, as this type of construction doesn't require support beams in the center of the area. Pole barns usually have lots of large open areas, such as an open-concept living/dining space. You can find a wealth of pole barn floor plans online to inspire your own design.
Your Local Weather
Incorporating heating and cooling into a pole barn can present some challenges since you're often working with a large open space. Consider what your local weather is like and think about how you will heat and cool your pole barn home. Orienting your home toward or away from the afternoon sun can provide some measure of natural heating. Over time, extreme weather can put some wear and tear on your pole barn, so you'll need to budget and plan for proper maintenance as well.
Pole barn homes are an affordable and flexible option for many home seekers, but only if done properly. If you have questions about how you can construct a pole barn home as your next dwelling, contact Hansen Pole Buildings. We can help answer all your questions and help you decide if a pole barn home is the right move.
Get A Free Quote!