Pole barn homes, also known as barndominiums, offer an affordable way to create a custom home that's personalized to your tastes. You have a wealth of pole barn options to consider when you're constructing this type of unique dwelling. Available in a full range of colors and sizes, pole barns are as unique as the families who use them. Though a pole barn typically has a simple, straightforward footprint, what you do inside is entirely up to you. Here are five key customizations that are must-haves for any family creating a pole barn home.
An Open Living Space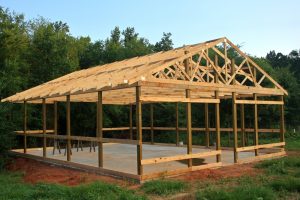 One of the greatest benefits of building a pole barn home is the opportunity to create large shared spaces. A barndominium home is ideal for families who want to have a great room where the kitchen, dining area, and living area flow seamlessly into one another. While you can easily wall off some smaller sections, such as bedrooms, a large living area is a must-have feature in any pole barn house so you can fully appreciate the expansiveness of this design.
With an open living area, you'll find it easier than ever to keep an eye on the kids while you're cooking dinner. You can comfortably gather the whole family in one space even when you're doing separate activities. This layout is ideal for entertaining as well because it maximizes the space in your common area and provides a convenient place for groups to gather.
Ample Windows
Include plenty of windows in your pole barn home to let in natural light. South-facing windows are the best option for natural light. In winter, these south-facing windows can even help warm your home, keeping your utility costs lower. If you're concerned about summer heat from all this sunlight, consider some well-placed trees that will shade the windows in warm months but allow plenty of sun in when they drop their leaves later in the year. Since pole barn homes are so customizable, you can include windows nearly anywhere you'd like.
Efficient Insulation
When you're using your pole barn as a home, you must include proper insulation. The better your insulation job, the lower your utility costs. Quality insulation with a higher R-value will keep warm air from escaping in winter and seal in cool air in summer. Include insulation in your building plans from the very beginning so you're not adding this as an afterthought. Properly designed insulation can increase your home's efficiency by 17% or more.
A Storage Loft
If you're building a tall pole barn, make use of some of that vertical space with a handy storage loft. While you may want to keep your soaring ceilings in the main living space, you can create cozy bedrooms with slightly lower ceilings while enjoying the added convenience of a storage loft above.
If you have small children, this loft may serve as a beloved play space as well. There's something special about having this type of hidey-hole to retreat to. It's an easy addition to your barndominium, and one that everyone will love.
Secure Walk Doors
Walk doors are the most secure entry choice for a pole barn home. You should place each walk door against one of the pole barn's vertical beams. You may only need one walk door for a smaller pole barn home, while a large home could benefit from a couple of entry points. Make sure you include durable hardware and a quality lock so you can keep your barndominium safe and secure at all times.
With these features in place, you'll enjoy an outstanding new home with all the affordability, ease, and convenience of a pole barn. If you're interested in planning a new barndominium project, contact our team at Hansen Pole Buildings. We'll help you get started right away!
Get A Free Quote!