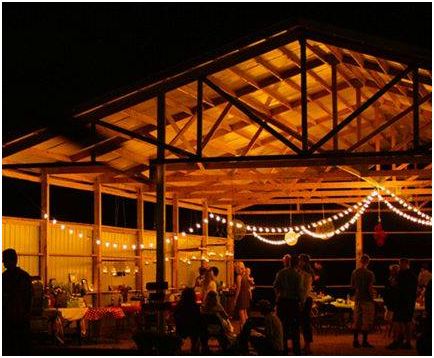 Pole barn structures come in various shapes and sizes and serve a wide variety of purposes, one of the most profitable being the event barn. Event venue buildings are simple to build, cost-effective, and will stand strong for decades of events to come. For a minimal up-front time and monetary investment, here are a few types of occasions that you can look forward to hosting after building an event venue on your property:
Wedding receptions

Engagement parties

Birthday parties

Anniversary parties

Holiday parties

Concerts

Reunions

Company meetings

Team-building events
Our event building kits are available in a range of sizes, with an array of design options to select from. Request a free quote now to start making plans for an event center pole building on your very own property.
Choosing a Pole Building for Your Event Venue
When you've decided to build an event venue on your property, a pole structure should be your number one choice. All of our event building kits are put together using post-frame construction methods with high-grade lumber and poles treated to withstand time and weather. For extra strength and durability, we also utilize double trusses.
Because constructing a new event venue building with a pole kit calls for fewer resources than traditional construction methods, each square foot costs us less to make, and we pass those savings on to you. This process reduces your investment significantly, especially if you plan to construct a large event venue building that can accommodate a lot of people at once.
Guests will need space to spread out, but you won't have to worry about spending too much on making room. Most of our event barns are able to span up to 100 feet wide, with sliding doors 36 feet wide or more, and don't include interior poles, maximizing the space inside.
Building Your Event Barn
You'll be accepting event bookings before you know it—pole barn structures make for the simplest, most straightforward construction, so you can finish putting your event venue pole building together fast and move on to decoration. 
From requesting your quote to putting the finishing touches on your new structure, the process can be completed in just a few weeks. Putting your building together yourself is efficient and easy on the wallet. We included detailed, step-by-step instructions to guide you through the construction process, but if you need further assistance, we can send one of the local contractors in our network your way.
Before you finalize your order, you're free to change your design, style, and colors as many times as necessary until your pole barn is just right. Get in touch with us if you find a lower quote from another company—we'll either match their price or provide another quote for a similar building. We're committed to helping you build a space that fits your needs without breaking the bank.
Get Started on Your Event Venue Building Today
We look forward to the opportunity to provide reliable service and affordable solutions for all your event barn needs. Get a free quote to get started on the path toward running a profitable event venue building.
Get A Free Quote!